Songs, sexiness, seventies, glam, blues, shaking hips, handclaps, gritty noise and grooves that aim directly at the midriff: the trio of vocalist/guitarist Ruben Block, bassist Monsieur Paul and drummer Mario Goossens aka Triggerfinger has it all. The band already performed at A38 four years ago, and after rockin' out at this year's Sziget festival, they are back for the second round – so you should mark the fifteenth of November in your calendar as the day when raw vintage rock 'n' roll and dirty and kicking stoner is taking over A38 Ship. But before that happens, we interviewed Paul Van Bruystegem (second from the left/right) about the current Belgian rock scene, how does it feel to record at Sound City Studios and why are they so sharp dressed all the time.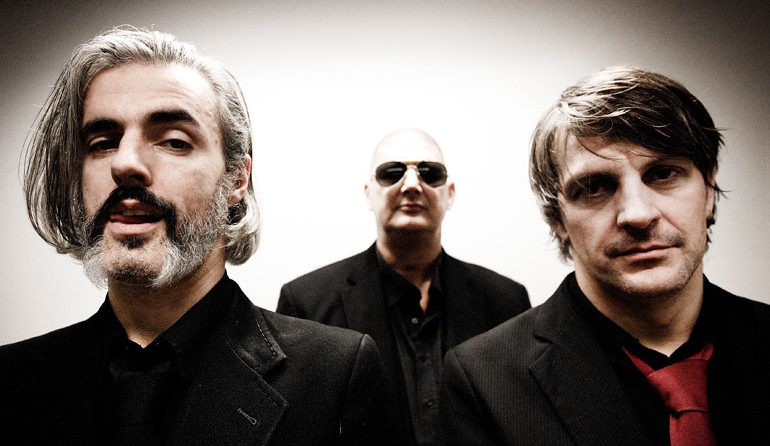 You've already played at A38 four years ago, do you have any memories of that show?
Our first time at A38 was great except no one knew us. We had a great day walking around the city and eating on the boat with such a terrific food and view. After the gig we partied a little bit, but not too hard because we had to fly back early in the morning. We really love Budapest – such an amazing city!
Did the band's name really came from the movie Dirty Harry?
It was Ruben that had written down this name in his notebook and he liked the name so much that he used to call the band Triggerfinger. He might have heard it in the movie cause there's a lot of shooting going on in Dirty Harry.
In some interviews, you mentioned that the fact, that you on one hand live a great, joyful life and the other, you see many troubling, disturbing things like junkies, people going to the garbage to get some food and whores were becoming a big theme as far as lyrics are concerned. How did you come up with it? 
We didn't come up with this, it attracted our attention while being on the road or while we where in Los Angeles recording the album. Life is going so fast and as anyone else we're reading magazines or papers. You read about these things, but after reading it you turn the page and it's almost forgotten. Even on tour so many things happen while you're away from home, private things, etc. On the lyric site it came all together with making the album.
Your drummer, Mario also works as a producer – so why did you decide to ask Greg Gordon to be a co-producer?
Mario worked with Greg on records of a Belgian band, The Black Box Revelation. Greg mixed those albums and Mario came back saying we needed to work with Greg, because he's not only a good engineer but also he worked on a record we all liked so much. Greg worked with the band Barkmarket on their famous record L. Ron. We're big fans of that album so it was an obvious choice to go to Los Angeles and work with Greg Gordon.
You've recorded your third album, All This Dancin' Around at Sound City Studios. What was it like to work in such a legendary place?
Sound City was legendary cause every album we liked was recorded or mixed there, but then if we were working there the people of the studio treated us as every other artist which made it even better. Amazing people and then afterwords seeing Dave Grohl's movie, it made me cry – it really did cause we were one of the last band who've recorded there.
You've already covered Major Lazer, Duffy, Lykke Li, Rihanna – how do you choose which one to re-record and why did you start it, basically?
We've always been doing covers on our albums. The songs you mention were songs we've needed to do because a Dutch radio station asked us to do a cover of a Top 50 Hit at the time. Lykke Li was an accident which became a major hit for us and we're very happy with the version and what happened to us.
Looking like elegant gentlemens, wearing well-cut suit have became your trademark. Was is a concious decision or you just prefer that kind of clothes?
Ruben always wore those suits or clothes and he came with the idea to wear it on stage and we agreed to it and now even wearing it in normal life too.
In what way was it different to do the soundtrack of Peter Monsaert's film, Offline. How did that collabration work?
Peter asked us and we said yes cause we never had done a soundtrack. It was great cause we wrote the whole soundtrack on the road while touring through Europe. It was great and it's a very nice movie.
How did the Belgian rock scene changed during the years, according to you?
Well there are so many good bands and we're stunned by it as well regarding the quality of bands. Being in such a small country contributing so many great bands is good for your own creativity.