The first of December is going to be a great day of Hungarian deathcore fans – Suicide Silence, Thy Art Is Murder and Fit For An Autopsy is going to bomb the ship with their throat-rippingly brutal performances. What makes the night even more special is that Suicide Silence will play in Hungary for the first time with their new singer – following the death of their charismatic singer, Mitch Lucker, Hernan 'Eddie' Hermida from All Shall Perish joined the band. You Can't Stop Me (the band's latest record to date, released earlier this year) was recorded with him; we asked lead guitarist Mark Heylmun (first on the left) about what it was like to work with him and Corpsegrinder, signing to Nuclear Blast and his favourite extreme metal albums.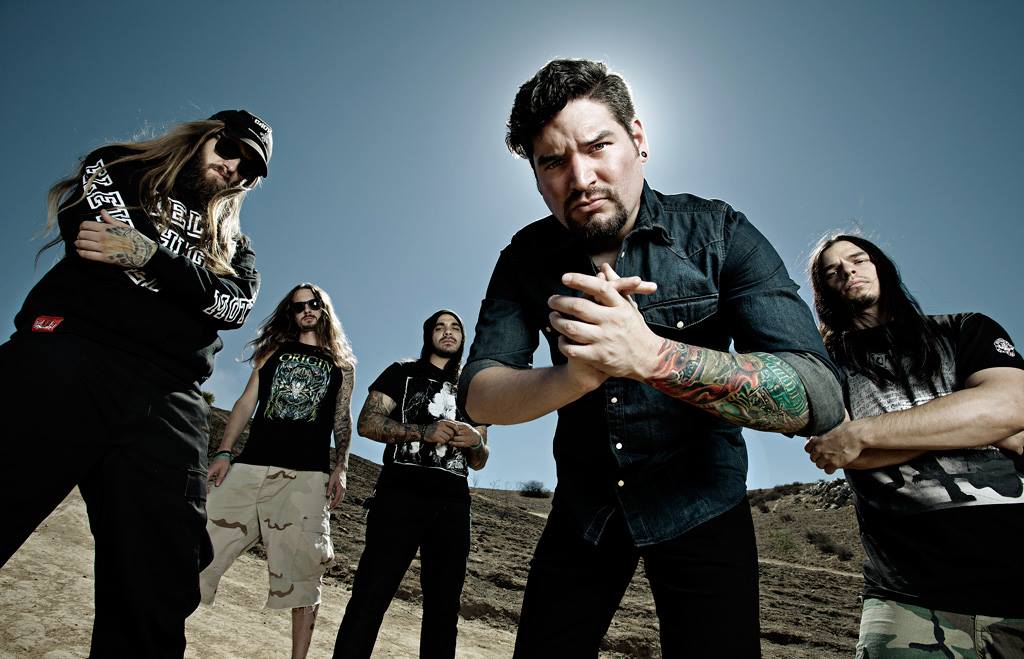 The new album's title was taken from a song Mitch Lucker was writing before he passed. Why did you decide to go with this title?
Because the sensitive situation we were in of moving forward with Suicide Silence needed these lyrics. You Can't Stop Me was the inspiration to keep the band alive with Mitch's influence.
Did your songwriting process and studio sessions changed with Eddie as vocalist? When and how did you decide that he is the one?
Eddie was the one as soon as we said his name out loud…. No tryouts just 'if he is down we should do it'. And he was down. He's just a brother you know? He's always been there and brings a real vibe to the table that he never can fake. He's not ever gonna try and be something he isn't. The writing sessions were exactly the same as they were before. Eddie is confident and throws down very much like Mitch – I mean they grew and learned together so it's no surprise.
You re-recorded End Is The Beginning. Why? Which of the older songs do you perform live?
Redoing ending was obvious for te new record. We'd named Mitch's tribute show that title and is just fit. It's also a badass song. And we'll be playing an assortment of new and old.
What about the bonus track, your version of Hatebreed's Last Breath?
It's a dog we've been playing together for a long time, a classic song to us and our youth. We all played the song with bands prior and it just felt right. Especially in our situation these days.The song is about losing someone.
How did the collaborations with Corpsegrinder (the singer of Cannibal Corpse) and Greg Puciato (the singer of The Dilinger Escape Plan) came?
Greg frequented the studio while we recorded and that lead to asking him in Australia while in Soundwave to do a part. He's a badass to say the least. George was held to his word when we asked if he'd do a spot on our album. We asked in 2011 and he was way down so this time we just hit him up and said we got this part and boom. Both dudes are super awesome people.
What were the reasons behind for changing record labels from Century Media to Nuclear Blast?
Needed a change of scenery. It's apparent when it's time to make a move and this was one of those times.
How did you feel when The Cleansing made it to the Billboard 100? What do you think, why could Suicide Silence became such a big hit in the "mainstream" scene too?
Because we bring an energy that is honest and real. We aren't posers. We love what we do.
From where do you get that brutal amount of energy that outbursts during your concerts?
The dark spots that make us want to be better people. The idea that people look up to us. The fact that we are living our dreams. The energy comes from multiple spots and a lot of the time it's from the fans that are there pumping energy at us.
Which are your five favourite extreme metal albums?
Suffocation: Pierced from Within
Morbid Angel: Domination
Decapitated: Winds of Creation
Death: Sound of Perseverance
Pantera: The Great Southern Trend Kill
————–
If you want to win a T-shirt with SS' logo on it, you have nothing to do but send a message to A38 Ship and tell us, which is your favourite song from them and why. We will contact you in a DM on the day of the concert if you are one of the lucky ones!