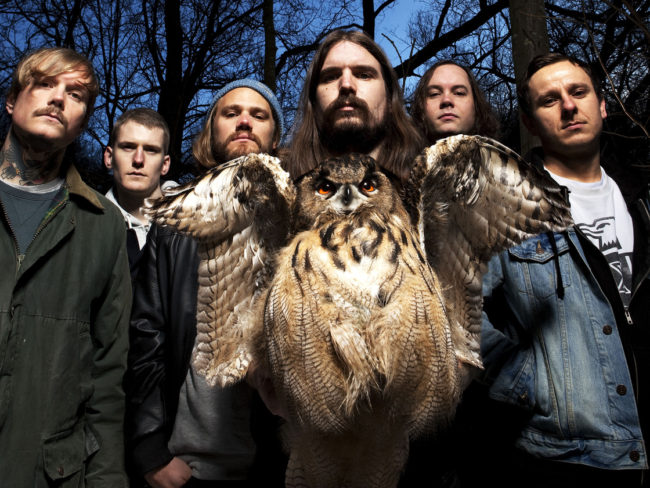 With their newest album, Nattesferd – which they'll present to the Hungarian headbangers on June 23 -, Norwegian metal band Kvelertak found the unlikely meeting spot between black metal blast beats and the anthemic power of Van Halen and Judas Priest. Recorded with Nick Terry instead of Converge-guitarist Kurt Ballou, it is as close to the ferociousness of their live shows as a studio album can get. But what inspired it? Did their songwriting methods change with it? And what kind of memories do they have from their previous Hungarian concerts? Singer Erlend Hjelvik answered our questions.
You've already performed in Budapest two times. What kind of memories do you have about those concerts?
I remember the audience being completely insane, it was mindblowing. Can't wait to play there again!
Kvelertak blew up incredibly quickly; what do you think, what was your key to success?
Good songs and good liveshows! I think we brought something new to the table and came up at the right time. I haven't really heard any other band that sounds exactly like us though many bands have tried to emulate us.
You've talked in interviews before about how, early in your band's career, you were given advice by Happy Tom from Turbonegro that you would need to sing in English to succeed internationally — how do you feel about that now?
I feel great about it, it's good to prove him wrong. I don't think it would be the same with English vocals, I think the Norwegian language is part of the appeal. It makes us stand out more. It's also a country that's close to most metalheads hearts, I guess!
What do you think, what is it about Norway that breeds so many great metal/punk bands? Is it the support from the government? 
It's definitely not because of the government. If you look at the black metal scene in the 90s they didn't get any support like that. Also you don't really get any funding/support until your band kind of blows up, at least that's how it was for us. We didn't see much of money like that until we put out our first album and that was doing well. I don't know why we have so many good metal bands, it must be because of the majestic nature and the shitty weather that we have here!
You've recorded Nattesferd in Norway with Nick Terry, instead of Kurt Ballou. What inspired these choices?
It was just time for us to do something new, it would have been boring and predictable to go record with Kurt Ballou again (even if he did great work on our first two records). The whole studio process was different, the whole band recorded the album live ("Kiss-live" anyway, of course we add layers and things like that) with Nick Terry engineering it in Oslo so the whole album ended up sounding more organic and natural than before. I would say it sounds like a more accurate representation of what the band actually sounds like in a live-setting.
How did the album art come together with Arik Roper?
He's always been on the top of my list of people I would want to work with, I'm a big fan of his style. I basically just told him that it needed to have an owl and sent him a bunch of reference pictures, like Frank Frazetta stuff. He then just made the cover based on the lyrics that I translated for him. I'm couldn't be happier with how the whole thing turned out!
Did your songwriting methods change with Nattesferd? The difference is that we spent alot longer time writing this one and also the songwriting has been more of a collective group effort. The whole band would spend alot of time just being a band and writing songs together in the practicespace whereas before we would have more or less finished songs before practicing them.
Both the album artwork and the songs that were premiered until now evokes a feeling, that classic rock and sci-fi pulps were your main inspiration now? Would you agree with that? Was it something you aimed for or it just happened this way?
It's one of the topics on the album. On this album the lyrical themes deal with norse mythology, folklore, history, science fiction and the occult. I agree that the cover looks like something that could be on the front of a 70s science fiction novel, I love that. It's a good mash up of science fiction and norse mythology, if you look at the cover you have Yggdrasil in there too (though you probably have to buy the album to see that). It's just a reflection of the lyrics on the album.
You've said about the song 1985, that it's lyrics depict a not so distant future, where technology and surveillance have erased all forms of individuality and critical thinking. Where have things gone wrong, what do you think?
I won't say that it's all bad, I think there is good and bad aspects of the times we are living in now. I just don't like the whole Facebook mentality that people have, for example where they think they are helping out with a certain situation by just sharing a link. To me it's just so narcissistic and I pretty much want to puke on a daily basis when I read the stuff that people post on there. Not to mention that it's kind of creepy how much they know about you.
It's also the level of fear that people have today I think is allowing government to limit our freedom more and more. It's not too long ago our police started carrying guns because of some unknown terror threat the government couldn't tell the public about. Luckily they just literally where shooting themselves in the foot. Well, that's a few of my 10 cents, enough about that!
Erlend also plays in the Norvegian supergroup Djevel; does the other members have some side projects too? Yes, Kjetil plays with his brothers in a metal band called Temple and Marvin and Vidar play in a powerpop band called Beachheads.
Any messages to Hungarian fans? Check out the new album, get into the new songs and come see us play! Can't wait till next time!