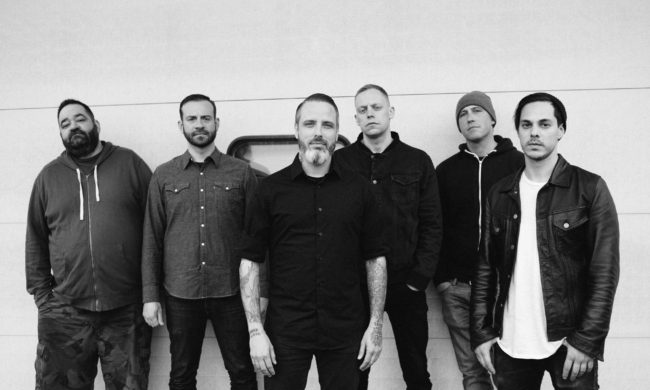 Boysetsfire is not just any band, and its fans are not just any fans. Boysetsfire is perhaps the most successful example of how an uncompromising heartcore sound, an irrepressible will and unbeatable stamina can move mountains and mobilize the masses. Their sound is characterized by the anger and intensity of post-hardcore, combined with catchy hooks, making them unique in their native hardcore-punk scene. After two decades of going strong, the members recently announced that after the current Boysetsfire tour – which will reach Budapest on June 28 -, they'll take an extended break with the band. Why? We've asked the same from vocalist-founder Nathan Gray – and talked about other topics too.
You've already performed in Budapest a number of times. What are your favourite memories from those concerts?
Honestly, A38 is such a unique venue, that just playing there is a great memory in and of itself. I am looking forward to being there again in just a few weeks.
You've recently announced that after the current tour, you'll be taking an extended break; what were the reasons behind this decision?  
I think we've all just reached a point in our lives where we are ready to focus on other things for a while. We've been at this for over twenty years now. We have all grown so much since Boysetsfire started out – we have careers, wives, children, homes. Each of us have our own interests and pursuits outside of Boysetsfire, and I think now is the time for us to focus on those. The last two albums after our previous break are incredible pieces of art, and we were (and still are) able to tour and perform them in some of our favorite places in the world. We were completely blown away by how well it was all received, and even more so with the response to the Family First festival. It was an intense and beautiful thing, but now we owe it to ourselves to put our energy into our own projects and interests. We aren't getting any younger, you know?
It surprised me since – according to the interviews – your comeback worked out really well; even you didn't expect that to be so successful. What would you say, what resulted in such a huge interest in your return?
It did work out well, didn't it? I wouldn't necessarily say we didn't expect it to be so successful. If we thought we weren't going to come back with a bang, there would be no use in doing it at all. I think I would say it surpassed our high expectations, and that was an incredible feeling.  I think people appreciated that we can back making the kind of music we've always been making. We stayed true to who were were and just had fun with it.
Last year, you've released your last album to date, which was self-titled. Which marked a shift in terms of lyrics from writing about the terrible things going on in this world to overcoming them, a more positive attitude. What inspired this change?
For me, the lyrics reflect who and where I am in life. I have somewhat "grown into" myself, and have arrived at a place in which I am completely comfortable in who I am. This has of course changed how I view the world around me, or more specifically, my place in the world and how I celebrate it. I am proud and excited to be who I am, and so of course, the whole vibe of the album will reflect that.
In a recent interview with a Hungarian band, Satelles, they've told me that with Bane disbanding, a certain period/generation of hardcore ended and there isn't a band which can fill the space left by them, which is scary. What do you think about that and the current scene in general?

I don't think that's scary at all. I think that's pretty badass for Bane. Who doesn't want to go out on top? And of course no one can fill that space… Bane was (is!) a powerful force in that scene. They will be missed, and rightly so. Scenes do evolve and change over time, as they should. Change isn't necessarily a bad thing..we should always be growing and moving forward.
What would you say, the world is going in a good direction or not?
I suppose that's really relative to who and where you are in the world, and your personal take on it. One man's demons are another man's saviors and vice versa. Are there horrible atrocities in the world today? Absolutely. But, there have been horrifying things happening in the world since the get go.
Last year you've started your solo project, Nathan Gray Collective – how was it diffent from working on a Boysetsfire or I Am Heresy record?
It is different in that it is my own thing. I am free to create and speak as I see fit. I am grateful to have a partner in that adventure, Dan Smith, who is a wonderful creative, and helps me bring my visions to life.
You've said about it, that it was important for you to stray away from the style of hardcore-punk frontman's country-ish/folk-ish solo records. Why?
I really wanted to do my own thing and tap into genres or moods of music that I haven't yet allowed myself the opportunity to create. I didn't want to play it safe. I wanted to push myself to try things that I have been wanting to try my hand at for many years. There is most certainly beauty in what guys like Tim Barry and Chuck Ragan are doing, but that's not really who I am. There would be no catharsis or benefit for me personally to own and accept my nature, and then not explore the boundaries of that musically.
You grow up listening to musicals. Do you think it had an effect on the kind of music you play and how you are playing it?
Absolutely. I think my love of musicals inspires both the theatrical side of my performances, and my ability to play with fantasy a bit.
You've always been very vocal about what you believe in and Nathan Gray Collective is very much about that too. As an active member of Church Of Satan, can you speak about the misconceptions related to it?
I would encourage anyone with questions to go right to the source. Church Of Satan is the easiest place for anyone to get a quick overview about what Satanism is, and what it is not. That said, I am always more than happy to speak to the most common misconceptions: first and foremost, we do not worship the devil. Further, we don't believe in the existence of God or Devil. For us, Satan is an archetype that we adopt in celebration of our carnal selves. We are our own gods. We do not encourage drug use, senseless violence, or the harming of children. We do not want to put statues on your statehouse lawn.