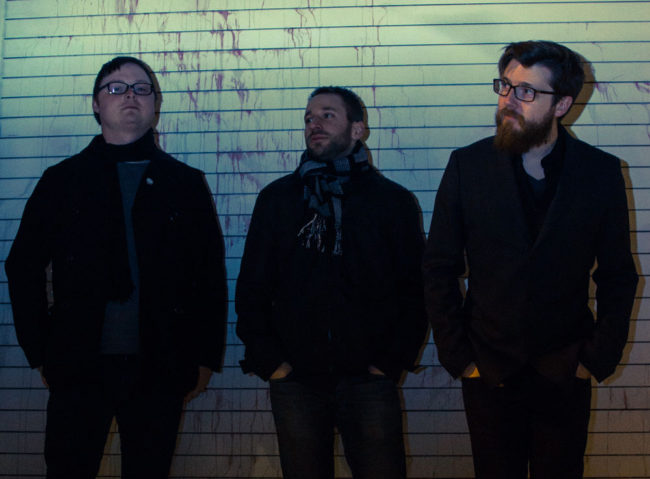 Emerging from the idealistic side of punk rock and inspired by the last thirty years of alternative music, The Static Age have evolved their own sound — one that infuses melody, atmosphere, and a pulsating back beat to bring forth an unmistakable urgency and honesty in their songs. The unique weave of beautifully weathered vocals, textured guitars, and elegant keyboard melodies all sitting atop the backdrop of punchy, chorus-drenched bass and a layer of tempered drums is resulting in an emotionally resonant and danceable collection of songs that sounds like nothing else before it. You can make sure about it on July 8, when they'll be playing with Grand Mexican Warlock at the A38 Ship. Which is why we sat down with guitarist-vocalist-founder Andrew Paley for a chat.
You've already been to Budapest four years ago. What kind of memories do you have about that concert? 
We had an absolute blast the last time we were in Budapest. Not only was the show itself really fun, but we happened to have a day off around that particular show and the promoter who hosted us, Magda, took us through the city. When you're on tour, you don't always get to stop and explore as much as you'd like, and I think we were really lucky to have that experience in Budapest — it's one of the most beautiful cities I've ever been to.
If you'd have to describe your music in five words, which ones would you choose? Could you name some of your biggest inspirations?
Words generally fail me when I try to talk about my own music. I tend to want to let others decide for themselves what it sounds like to them. That said, I can tell you that I like things that sound like open spaces, sharp edges and bright colors.
As far as inspirations go, I count a wide range of bands/artists in that category. Everything from Propagandhi to Kate Bush, with detours into various other genres in between, from old Cave In to bands like Mew. There's also a bunch of records from the late 70s and early 80s that I will forever return to from bands like the Psychedelic Furs, Tears for Fears, The Damned and Dag Nasty. More recently, I've been enjoying a lot of instrumental and/or electronic music, like Tycho, Com Truise and Caspian. I'm a bit all over the place.
Beyond that, inspiration comes in a bunch of forms. I can't begin to tell you how many songs have started as melodies over the rhythm of a car's window wipers or the steady drip of rainwater on my windowsill.
Would you agree that it takes time for a band to develop an identity? When did you feel that "yes, this is who we are and how we want to sound"?
I think it happens in stages, and each stage can take time to develop. When we started, we were all barely out of high school, and had spent much of our teens playing in punk band and hardcore bands. The Static Age grew out of that as an attempt to try something a bit different, but we really didn't know what we were doing quite yet. Our first set of recordings was us figuring all of that out. We had a direction we were headed, but no clear destination.
A year or two later, when we were recording "Neon Nights Electric Lives," we had settled into ourselves, and I think that was the first time we were truly "our own." I think the moment I came out of the haze and frenzy and doubt of the weeks-long recording process, and just listened back to songs like "Vertigo" of "Ghosts" sitting in the control room at Phase studios with Matt Squire — that was probably the first time I thought "okay, yes…this sounds like us." I don't know if I knew quite what we would sound like before that moment, so I was finding out, too.
And I love those types of moments. The band has grown up with us, and we've tried a lot of different things along the way. I thankfully haven't hit one yet, but I'm actually afraid of a moment when I come out of that creative haze to find I've made something that doesn't surprise me in some way.
It's been five years since your last album to date, In The City Of Wandering Lights – which is the biggest break between two of your releases. What are you doing nowadays?
Wandering Lights was our last full-length album, but not actually our last release. We did a five-song EP in 2012 called Mercies, and then a split release (with Featuring Yourself from Germany) in 2013 called Mistakes Worth Making. We toured around each of those, up through mid-2014.
Then we took a bit of a break to write and focus on other things for a while. I released some solo songs I'd been working on, and did a bit of touring on that. A few of the other guys took opportunities to play music with some other friends or go back to school.
We were planning to have a new release ready to go by the beginning of 2016, but that got delayed because I was in an accident last summer, leading to broken bones and a long recovery process. I finally came back from all of that late last year, and so resumed working on all things — The Static Age album and solo stuff — and am very much looking forward to the upcoming tour.
You had a solo career and some members were also playing in different bands. What about that now? Do you play in other acts currently?
I do solo stuff in a few different forms, as I write often and some of the songs don't necessarily fit with The Static Age — either because of instrumentation or scope. I also am working on a couple of collaborations that should see the light of day later this year. But those various solo projects and collaborations are all I currently do outside of the band.
As for the other members, Joe, our drummer, plays with some other guys in a couple of projects around Chicago when we're taking downtime. In fact, we got Nico, our new guitarist/keyboardist, from one of the other bands Joe plays in (a great Chicago band called the Young Distractions).
Since the early days of your career, you've avoided major labels. Why? If you could start over again, would you do it (or something else in your career) differently?
Ultimately, we just wanted to be our own, and we were happy to pursue things in a DIY way. We've had plenty of conversations over the years, but have taken care to work with people for the reasons we consider right for us. Would we be bigger or make more money had we chosen other paths? Almost definitely. Would we be the same band we've become? Almost definitely not.
You're pretty media savvy — what role does politics play in the band? What do you think about the current presidental election?
Well, I tend to be somewhat fascinated (and horrified) by politics — and so that trickles into what the band does. We're not an overtly political band, but those themes thread throughout our songs and records. I sometimes refer to The Static Age as "quietly political." Relatedly, we've been tied to or tried to promote various causes over the years, such as playing anti-war rallies or contributing to related compilations.
In terms of the US presidential election, I think our country is at a turning point of sorts. I was a huge Bernie Sanders supporter — we have old ties to him as a band actually, having played a couple of rallies with him over the years back in Vermont — but have settled into the idea that he won't succeed. At this point, I'm more disgusted by the antics of Donald Trump and his supporters, and what that portends for this country as a whole. My sincere hope is that we collectively prove ourselves better than what Trump is peddling, but we will have to see how the polls go as the election draws near. This will be an historic year in the US, one way or another. Let's hope – for all our sake's – President Trump never becomes a reality.
Future plans?
Well, we've got this tour in July to look forward to and a record to finish. As for other things this summer, I'm also wrapping up some of those aforementioned collaborations and solo songs. Next up? Well, the band is looking at US dates and possibly a Mexico tour later in the Fall, and I'll be playing at The Fest in Gainesville in October. Beyond all that? We'll figure it out as we go.