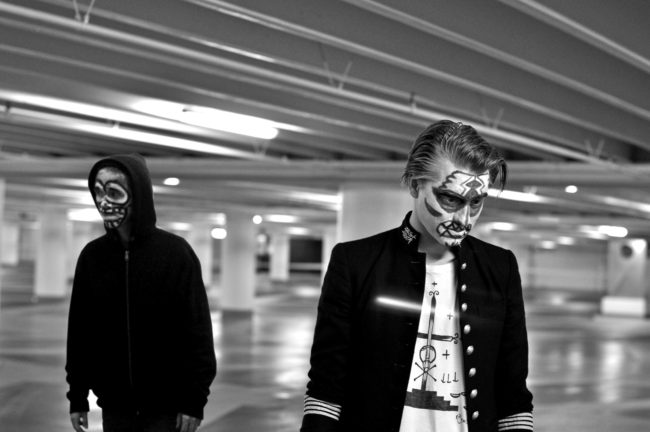 Blue Foundation have always felt that forward is the only way. A Brooklyn-Copenhagen collective, the project hinges on the imaginations of Tobias Wilner and Bo Rande, who recruit guests as and when they're needed. Their latest dream-like electronic pop offering, titled Blood Moon is due to be released in September, but before it, they'll present it to the Hungarian audience on August 22. But what can expect from the show and from the record? Founder Tobias Wilner told us about it.

Tobias, please tell us about the story of Blue Foundation and how Mark E. Smith of The Fall inspired you? 
I grew up listening to The Fall so I guess Mark E. Smith is one of my many inspirations when I wanted to start a band. Next to Wu-Tang Clan, Sonic Youth, Autechre, Broadcast, Stereolab, My Bloody Valentine, Public Enemy. I loved Mark E. Smith's way of changing members to keep it fresh and new. To keep develop. Haven't listen to The Fall in a long time though, but it used to be really great music. I don't think Blue Foundation sound at all as the bands that inspired me to start out. I think Blue Foundation got its own original sound. We don't sound like anyone else. We sounds like us.
It's been more than ten years since the start: what has changed, what remained the same?
It has never been boring and I think we have been able to develop and create a sound that is unique. I will stop the day we start to sound like parody of something that once was Blue Foundation. I fucking hate bands that don't develop because they stick to the same formular.
Where do you draw your inspiration for the music you write?
Real life. People around me.
How do you choose the artists you collaborate with?
It's all people I respect and want to work with. For the new album I wanted to do more duets. Thought it was a exciting form to work with.
How does the live band for this tour looks like?
The live band has never been better. It's me on vocal and laptop and award winning singer and guitar player Sonya Kitchell. She has worked with Herbie Hancock for a few years and has her own thing going to. She has giving a new life to some of our old song. She's no bullshit. Then we have experimental New York drummer Federico Ughi. He's part of the whole New York experimental scene with Daniel Carter. Of course Bo Rande will play keyboards, horns, samplers and do backup vocals. We have played together for 3-4 years and it's just getting better and better.
Four artists that should cooperate (with you)?
Let's let the future show what's gonna happen. I'm really digging beat makers like Luude, Proko, Moniker and Clams Casino.
Did the fact that your song Eyes On Fire made it to the Twilight saga had a huge effect on the band?
More people had heard about the band because of that and of course it has open some doors.
What can you already tell us about your upcoming new album, Blood Moon?
Our forthcoming album features guest appearances from Mark Kozelek (Sun Kill Moon/ Red House Painters), Erika Spring (Au Revoir Simone/ Nice As Fuck), Jonas Bjerre (Mew), Sonya Kitchell, Sara Savery (aka Drop the Gun) and Findlay Brown. The album is recorded in Brooklyn and Copenhagen over a three-year period and was written, performed & produced by me and Bo Rande.
On Blood Moon I dig deep down in my roots in beat making and song writing and we mix it with Bo Randes exquisite soundscapes and melodies. The lion's share of the album is built around my duets between guest vocalists. Blood Moon is a beautifully aberrant love story that begins with "Dreams on Fire", lost love in "Stars Fall Quiet", the accused in "Don't Blame My Eyes" and the break up in "Stain A Broken Heart". The lesson is that love is not something you can attain or control.
You've said about your first album, Blue Foundation that when you were doing it, you had Andrei Tarkovsky's Stalker running in the studio all the time. If you had to describe Blood Moon with a film, which would be it?
Real life.
You've also founded your own independent film company, DPC Film. What can you tell about it?
It started out in 2008 and we have done a few award winning documentary films like "Tankograd" and "Diplomacy" all directed by Boris Bertram.
You also worked on the soundtrack for contemporary dance performances. In what way is it different for you than for example putting together a song as Blue Foundation?
It's very different. When I do soundtracks for films, TV-shows or dance pieces, I have to understand a directors vision, and make that my foundation for the music I create. When I do Blue Foundation I'm in 100% control of my output.
Of all the things you have achieved, for which one you are the most proud of?
When we traveling the world like USA, China or Russia, even far places as Mongolia and I see how much our music means to our fans, I feel very proud.
Future plans?
We're going to release our new album September 2nd. I'm super excited for that.