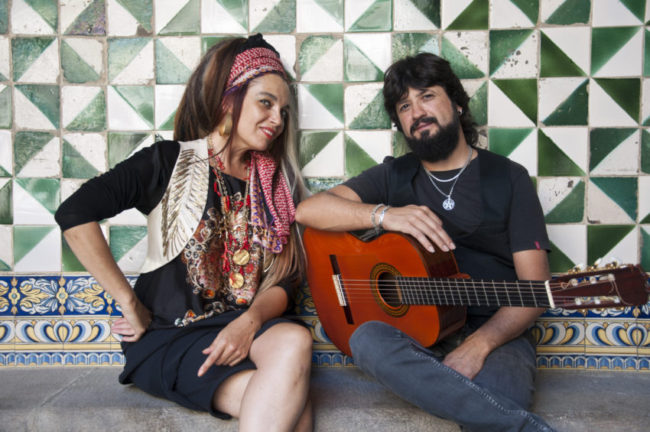 Almost the complete line up of the Latin Grammy-award winner Ojos de Brujo band, the "urban flamenco" duo from Barcelona featuring a fantastic guitar virtuoso: this is Marinah & Chicuelo who released their fantastic album only a few weeks ago which they will present at the A38 for the Hungarian audience. Interview with singer Marina Abad!
What was the main reason for launching your solo project along with running Ojos De Brujo?
When it comes to such relevant decisions, it is really not possible to reduce the matter to one single reason. The truth is that, mostly, I had the feeling that a period of my life was heading towards its closure, that I felt the desire to experience different processes –both internal and external- with music and, most of all, that I was pregnant and looking forward to a different way of organizing my life. It is always difficult to part after more than non-stop 15 years, but being in synchrony with one's instinct and heart is above all.
What is the main difference for you working in frames of Ojos De Brujo and Marinah & Chicuelo?
Well, I have to say that the process with Marinah & Chicuelo (where we work as a quintet) has been a painless birth. Everything has been very simple and amazingly gratifying. Chicuelo is a great musician, very creative and open-minded. The album was recorded in two days, playing all together.
Ojos De Brujo and Marinah & Chicuelo are both inheritors and intermediates of the Spanish traditions in music. What was the moment in your life, when you got interested in music and especially folklore roots?
Flamenco has touched my emotions and has been making me fly since as far as I can remember. In my home, it used to be my mother who loved listening to cante flamenco. She used to listen to a lot of Rumba as well. That is where my love for it comes from. However, it was probably "Lole and Manuel" and "Camarón" what stuck with me the most.
You have been playing music for almost 20 years, a really long term for a performer, which legitimates its success. What keeps you still motivated when you go on stage or work in studios on new records?  
Motivation remains intact. Whenever I jump on stage, I look forward to feeling that sense of comunion and synchrony with the audience and the musicians. Music is wonderful, and practicing it can only bring positive things. As for composition, it is a personal "trip" for me; I just cannot imagine my life or myself without it. First off, news songs have an effect on me: they transform me, they affirm me, they comfort me, they bring me to a higher state, I rejoice on them, they build me up, and they deconstruct me. They then get out, and have an effect on other people, individually, or collectively… wouldn't you call that pure magic?
In some of your songs you deal with social issues. What are the main internal political or social issues you are concerned about?
In my mind, what is political is as well personal, as far as it defines and affects many aspects of my life and of the lives of the people I love. There are plenty of things that I am concerned about nowadays. I believe we are living within a system that has reached its own limits, but that will do anything to survive, beyond what common sense would dictate, and regardless of the interests and rights of the vast majority. We can see a new situation, where "slavery" and where individuals reduced to the condition of "market factors" have reached high levels of cruelty. Borders, walls, fear of the difference, scarcity of resources created by politics, wars, boys and girls with no future ahead… and we could go on and on!
When you started with Ojos De Brujo world music was in the focus, nowadays there are still many festivals, but the interest in ethnic or folk based music is much lower. What do you think, what is the reason for it and is there any chance a for a new wave in world music? 
Roots and folk music is everywhere, all the music is from this world, created in this planet. In fact, I feel as firmer than ever in this aspect. To get to know the music made by others makes you tolerant, it is enriching and eventually you feel identified with it. That is what world needs today: the search of what is common, rather than the difference. It may well have to do with the most commercial aspect of the business. Some parties determine what is in fashion and what is not. You just need to see 5 minutes of what the main media is programming to get an understanding of what is going on. Nobody takes risks or offers visibility to intelligent proposals, or that are different, or innovative. We walk towards what is easy-to-get, to what is standardized, to whatever does not mean too much of a challenge, and whatever is entertaining and keeping you away of the opportunities and of poetry. I would say the answer is biodiversity in music.
Your music is often labeled as urban flamenco. Flamenco is strongly associated with the gitanos however, unlike gipsy music of Eastern Europe, the style is distinctively Andalusian. What is the situation of gipsies in Spain nowadays?
Well, my impression is that they still have the need to struggle against racial and economic discrimination.
What are your plans for the future?
Mmmmmmhhh… plenty… As of now, I am planning a new solo album for January. I am as well drawing and writing-micro-poems, with the idea of editing a little book in the future. And I would love to release an album for little boys and girls (though it has been three years since I started working on it, and I never find the right moment). Lastly, my main plan: to give my little grain of sand to make a better world.