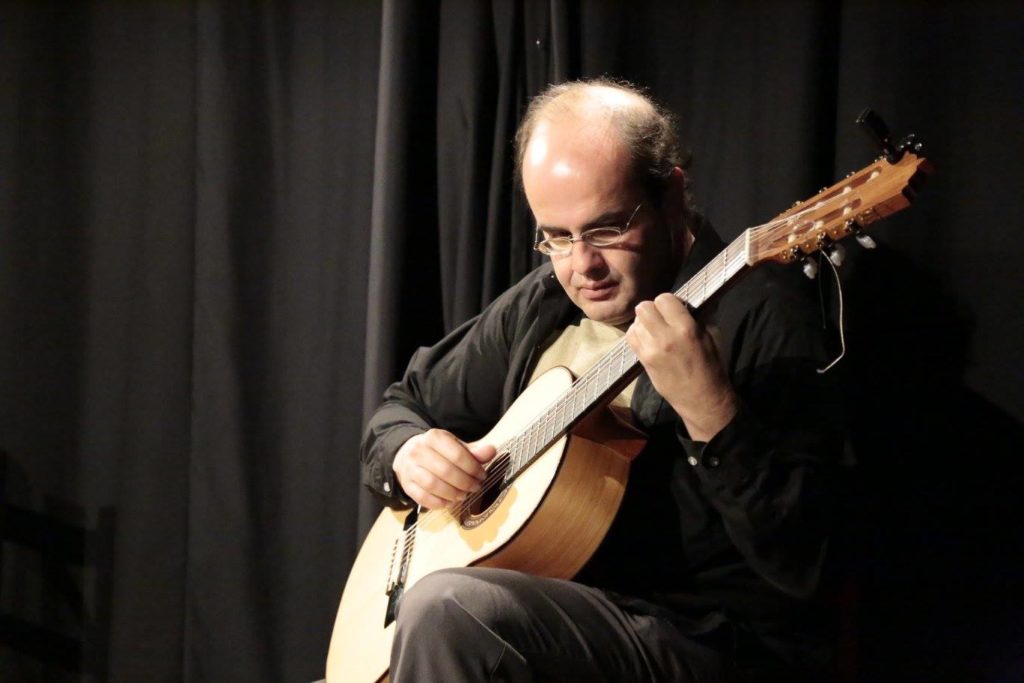 Arnaldo Freire is a Brazilian guitarist, teacher, cultural producer and composer. He is the author of several methods for the guitar, the teacher for drums and bass, and the creator of video curriculum "Ritmos". During his long career, he has received several awards including the National Guitar Competition at the Mozarteum Faculty and the National Guitar Competition Souza Lima and was the first musician to perform unprecedented concert premieres for Guitar and Orchestra in Goiás, conducted by Joaquim Jaime by the Symphony Orchestra of Goiânia.
In Freire's compositions we see a refined Brazilianness: folk songs, frevos, sambas, waltzes and other colors are mixed with post-tonal techniques, refined counterpoints and unusual instrumentation. But what else would you expect from somebody who has graduated from the Consevatório Musical Guarulhos and also studied at the Conservatory of Music and the Instituto Paulista Booklyn Souza; some of the most important music conservatories in the world. So it's not surprising that very soon, he was considered a national treasure: in the years 1995, 1996 and 1997, he was the first musician to perform unprecedented concert premieres for Guitar and Orchestra in Goiás, conducted by Joaquim Jayme by the Symphony Orchestra of Goiânia. Concerts from paulistas Achille Picchi and Eduardo Escalante and goiano Estércio Marquez were written especially for the guitarist. In 1999, three more unpublished concertos for guitar and orchestra were written for Arnaldo: by cariocas Odemar Brígido e Neder Nassaro and gaúcho Frederico Richter.
In 1999 and 2000, Arnaldo performed in Rio Grande do Sul with the Symphony Orchestra Santa Maria conducted by Ricardo Tacuchian (Academia Brasileira de Música) and the two concerts were dedicated to him by Frederico Richter. In 2002, he performed premieres of Concerto em Sol, de Pedro Cameron, with the the Goyazes Orchestra conducted by Eliseu Ferreira.
He also scored the soundtrack for the award-winning short film "Catadores del Papel" and the works of Lázaro Riberio: "Entre Memórias e Conquistas", "Umas e Outras" and "Maria da Gruta". These films shed some more light  on his virtuoso guitar playing, which earned acclaim from internationally well-known critics like Harry Hewitt, Danielle Baas, Carlos Carmona or Paulo Galvao. Achille Picchi, Eduardo Escalante, Estércio Marquez, Odemar Brígido, Neder Nassaro and Frederico Richter have written concertos especially for the guitarist. And to take virtuosity to a next level, we have another band on the bill!
The music of South America and Europe merged into one ensemble – probably that's how you can simply define the art of Ímpetu, a fresh local band, consisting of talented musicians. Samba, bossa nova, milonga and other South American genres combine with jazz and classical music besides such modern styles as drum 'n' bass, jungle, reggae or house. If you listen to their music, you'll have no doubt that they are the perfect warm-up for Arnaldo Freire.