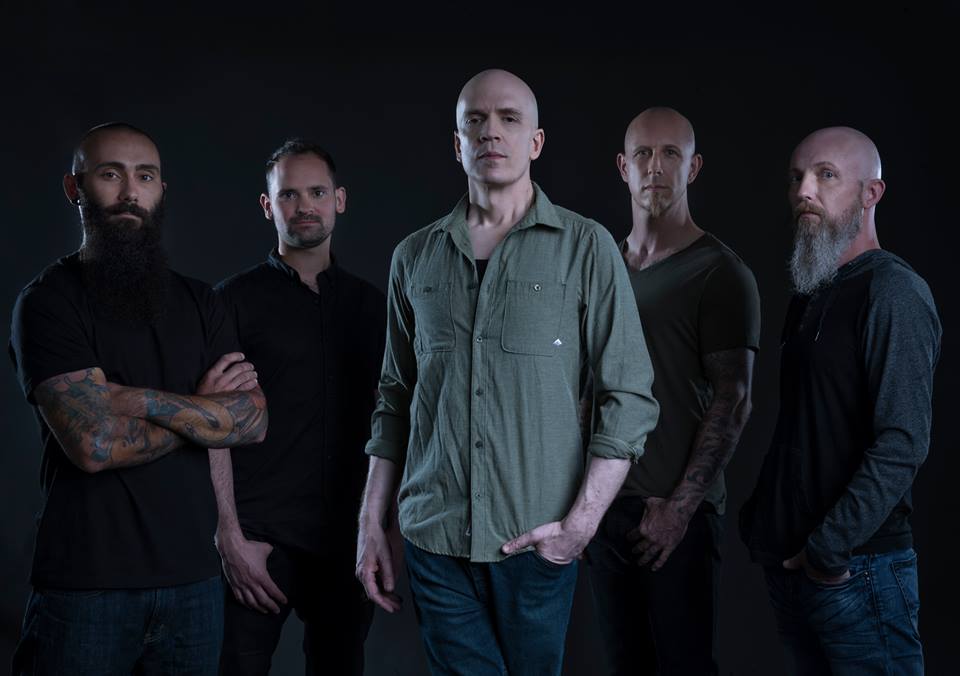 Canadian singer / songwriter / guitar hero Devin Townsend is an exceptional artist on the contemporary metal scene. Not because he has no hair (think of Rob Halford, for example), but for the simple fact that he's not simply a metal musician – he blends the genre with new age and ambient elements, among others. If you've been to a Devin Townshend show, you know that he's an exceptional and very entertaining performer who's worth checking out again. If you haven't, you definitely should go.
Usually it's a huge honor and a great career start when a famous guitar player invites you to be the singer in his band. That's what happened to then 20-year-old Devin Townsend when guitar legend Steve Vai asked him to sing on his album Sex & Religion and also perform on the subsequent tour in 1993. This all sounds like a great opportunity, and it was, however, the Canadian talent was left with ambiguous feelings about the experience and even back then he admitted in an interview that he and Vai "can give each other ulcers". Legend has it that Townsend even did something disgusting to one of Vai's guitar cases (we will not go into details here), but later they managed to bury the hatchet.
Born in British Columbia in 1972, he started playing the banjo at age 5, and a couple of years later he switched to guitar. He was involved in metal bands in high school and he formed his first proper outfit Grey Skies in 1991. At the same time he was also a member of Caustic Thought, and soon he adopted the Noisecapes moniker for himself. After the bittersweet Sex & Religion experience, Townsend toured with British hard rock act The Wildhearts and was even involved in a short-lived thrash metal collaboration with then Metallica bassist Jason Newsted.
In 1994, Townsend finally got offered a record deal, and after dropping the Noisecapes moniker, he released his first album under the pseudonym Strapping Young Lad in 1995. The record titled Heavy As A Really Heavy Thing had some industrial influences, and next year's follow-up Punky Brüster – Cooked On Phonics was more of a punk parody album, as its title also suggests. It was also the first album that Townsend finally released under his own name. In 1997, he released Strapping Young Lad's possibly best work, City; another album with strong industrial elements.
After releasing Ocean Machine: Biomech, Townsend suffered a nervous breakdown and he was diagnosed with bipolar disorder. He checked into a mental health hospital, and after successful rehabilitation, he continued making albums. At the turn of the millenium, he formed another project with Newsted, Fizzicist, which, again, was short-lived as James Hetfield and Lars Ulrich were less than happy that their bandmate was involved in collaborations. This meant that Townsend had to complete the Physicist album on his own (although Newsted was fired from Metallica not much later anyway).
Follow-up Terria was much better received, just like the eponymous, 9/11-influenced comeback of Strapping Young Lad. Townsend remained very productive, releasing several albums over the years including the folk-influenced Synchestra or Ziltoid The Omniscient, a rock opera about an alien. In 2007, he retired both the Devin Townsend Band and the Strapping Young Lad monikers, and formed the Devin Townsend Project. He also cut his hair, and gave up smoking and drinking. He has been releasing albums ever since, his latest work being 2016's Transcendence, which almost topped the charts in Finland, and it's also his highest charting album in the UK so far. It features his trademark wall-of-sound-like multitracking technique, and he's currently on tour supporting the record. Of course there could be a lot more said about the man who goes by the nickname Hevy Devy (for instance, we haven't mentioned his acoustic output, or the extraordinary costumes and projections at his live shows), but unfortunately this column is simply not enough to list all his merits. The most important thing is this: after the A38 show in 2012 and his 2015 performance at the Barba Negra Music Club, Devin Townsend is returning to Hungary to the latter venue, for yet another unforgettable gig.