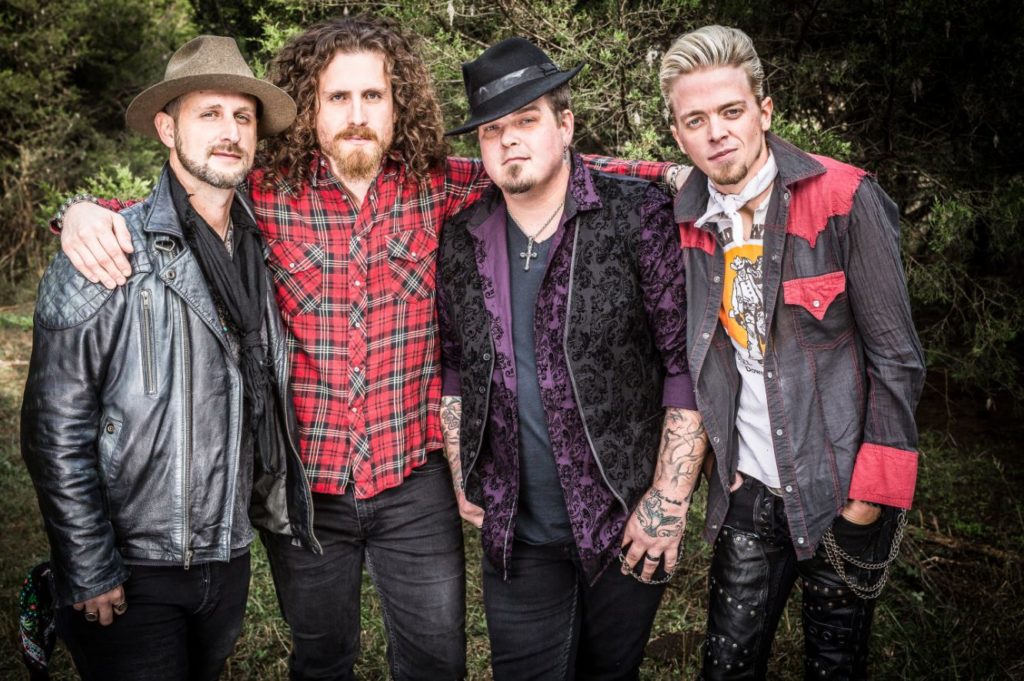 Formed in 2001, Black Stone Cherry have always intended to find a fine line between radio-friendly rock music and dirty, honest southern rock. 2018's Family Tree is their sixth album – a brilliant record from a band that has always been proud of their Kentucky roots and whose lineup has never changed. Two years ago their A38 concert got cancelled – guitarist Ben Wells told us why, and he answered several other questions as well.
In February 2017 you were scheduled to play on the A38, but that show got canceled. How come?
We had some personal matters we needed to tend to at home, so it was best to unfortunately lose some dates. But all is well and we are excited to return! We love this venue!
The band started out from Edmonton, Kentucky. Tell us about the town! Are you still located there?
Yes, we are still located where we grew up, which is Edmonton and Glasgow, Kentucky. Two small towns right next to each other. We love it! No traffic, no fuss! It's laid back.
You officially formed on June 4, 2001. What memories do you have of that day? Do you celebrate it every year? It's also the birthday of Chris, right?
Yes, we just celebrated it actually. It was an amazing time when we first came together. We all just started playing and it felt so good that we immediately formed the band and started writing songs. It's a day we'll always cherish for many reasons!
In 2008 you supported Def Leppard and Whitesnake on their tours. How were those experiences for you?
Amazing! Both of those bands went out of their way to make sure we were happy, and they were so gracious and respectful. Very much class acts, and we learned a lot from them. They're the coolest!
Three of your albums have reached the UK top 10. Do you think you're more popular in the UK than in the US? What can be the reason for that?
I think the majority of our fanbase is in the UK, yes. I can't 100% explain why, other than the fact that the UK and much of Europe still have many outlets for rock music. Magazines, music shows on TV, etc. It's still very much "on top" overseas. Either way, we're very grateful!
A few years ago you switched from Roadrunner to Mascot Records. Why did you make this move?
We just felt like Mascot was a better fit for our band and our sound. They understand a band like us and what we want to accomplish. The owner of the label is the coolest cat and very knowledgeable. That also spoke volumes to us when we first met him. So we're happy, and their team is amazing!
You have a song called Hollywood In Kentucky, and your fifth album is called Kentucky. What's the best band that ever came from Kentucky?
Hmm. There are so many! The Kentucky Headhunters, of course!
Last April you released your latest album Family Tree. Tell us about the inspiration behind the title!
We wrote the song Family Tree first, and as we were writing, we all just kinda knew it would be the title. We are very much a family band and we thought it was a great way to make the album and also shine light on how close we all are.
This became a more upbeat album than the previous one, Kentucky. What was the reason for that?
We just wanted to write fun songs that we knew we could play live. We've successfully played every song from this album live so far. We dig deeper into our early influences and I believe they really shine through on this album.
Why did you write a song about James Brown? Who's the biggest James Brown fan in the band?
Why not?! He's the man! Haha, I think we equally love and appreciate his music, no doubt.
Listen to Black Stone Cherry's new album, Family Tree on Spotify:

Warren Haynes features on your song Dancin' In The Rain. How did this collaboration come about?
We have known Warren for a little bit and we knew we wanted him on the album. Dancin' In The Rain stood out as a track that we thought he would be great on, and he nailed it! He absolutely did a fantastic job and he's one of our musical heroes for sure.
Tell us an artist who you haven't collaborated with, but you'd love to!
If Elvis Presley were alive, that would be mine. He's my biggest influence. We would love to do something with Aerosmith as we are all huge fans of theirs. As well as any great blues guys. There's so much music we are inspired by and appreciate. Pop, country, reggae, etc., so who knows what'll happen one day!
Chris's 5-year-old son also feaures on the album, on the track You Got The Blues. Did he inherit his father's love for the blues?
I'm sure he will! It would be hard not to.
Last year you opened for Guns N' Roses at Download. How was that experience for you?
It was an out of body experience to say the least. It was an amazing day! My wife was there to see it so that made it even more special. It seemed like our set started and was over in no time. So many nerves and energy that day. Will never forget it.
At your concerts you like to play covers. What's your favorite song to cover and why?
That's hard, because we do enjoy covers every now and then. A fan favorite is probably our little version of Can't You See by The Marshall Tucker Band.
It's rare that a band remains in their original line-up for 18 years. What has kept you together?
We are friends first, and a band second. Everyone's families and personal needs come first and I think that's why we are still here.