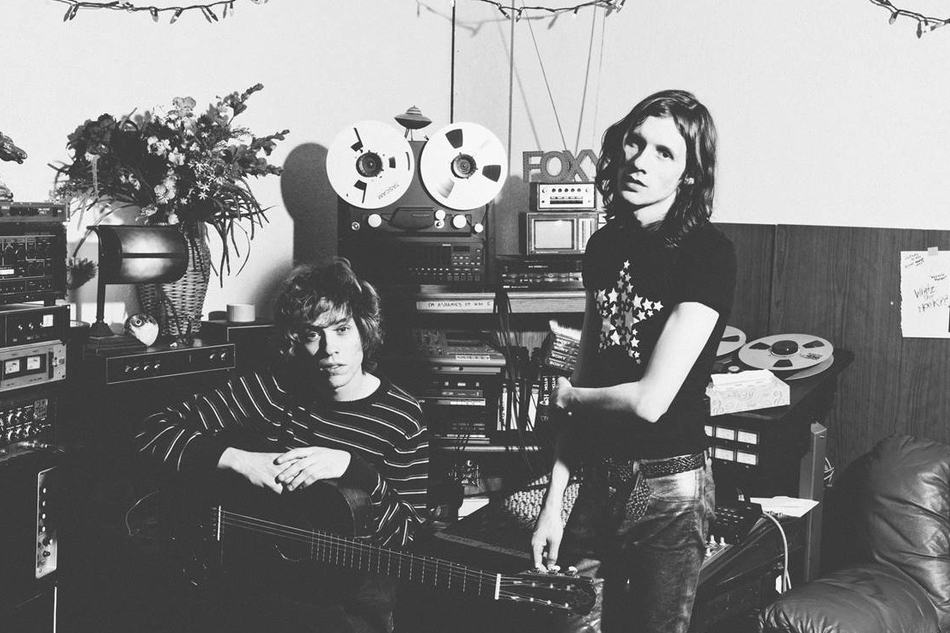 There are bands that prefer the 20+ line-up such as The Polyphonic Spree, and there are the ones that feel sufficient enough with only two members. You have to argue less, there are fewer creative differences, you don't have to divide the salary that much – lots of advantages. Consisting of members Sam France and Jonathan Rado, Foxygen is yet another band that proves the justification of the duo format.
Some people say the best bands are formed in high school. Sam France and Jonathan Rado met in Westlake Village, California when they were 14 years old, and they formed Foxygen based on their mutual love for the Brian Jonestown Massacre, and such 60s/70s heroes as The Beatles, The Rolling Stones, The Beach Boys, David Bowie or Lou Reed. They immediately started to self-release their psychedelic songs, starting with two EPs (Electric Sun Machine; Catfood, Dogfood, Motor Oil), followed by the album Jurrassic Exxplosion Phillipic in 2007. Things slowed down a little bit afterwards, with both members going to college and on hiatus after two more EPs (Ghettoplastikk!, Kill Art) in 2009.
In early 2011, France and Rado handed one of their EPs to singer-songwriter-producer Richard Swift in New York. As a consequence, they got signed by cult indie label Jagjaguwar who released their psych-pop album Take The Kids Off Broadway in July 2012. Contemporary comparisons were drawn with Ariel Pink and The Flaming Lips, the band received good reviews, and amazingly enough, they completed the follow-up in no time. Only six months after …Broadway, their next output titled We Are The 21st Century Ambassadors Of Peace & Magic hit the record stores in January 2013. Featuring such exquisite songs as No Destruction, San Francisco or the Stones-inspired On Blue Mountain, the Swift-produced album strengthened Foxygen's position on the psychedelic rock scene.
Of course we didn't have to wait long for the next record. Released in 2014, …And Star Power has become Foxygen's most ambitious work yet: a double album with a 24-song cycle. This time, the reviewers were less enthusiastic, and even the band members felt that they needed a longer break after their misleadingly titled Farewell Tour in 2015, and before the next release. Which became this year's Hang, and it was worth the wait – it is not only a lot shorter than …And Star Power, but also a lot more focused. It features a 40+ orchestra (in each song!), plus Steven Drozd of The Flaming Lips and members of the Lemon Twigs.
It has been a sort of habit for Foxygen to get inspired from a different decade for each album, and according to Rado and France, Hang was strongly influenced by the music of the 40s, and, to a lesser extent, the 30s. Despite all this, the record still presents a strong 70s atmosphere as well – sometimes you can hear traces of classic piano rock á la Elton John. Although for the duo the key song is first single Follow The Leader, an even bigger stand-out track is Avalon, which sounds as if Electric Light Orchestra had duetted with ABBA instead of Olivia Newton-John. Foxygen also go back to Broadway on this conceptual album; occasionally, Hang sounds like a never-before-heard musical, but not in the kitschy webberesque sense of the word. It is great news that Rado and France are back in form, and the even better news is that we can finally see Foxygen live – their known for ecstatic shows so this gig might as well be one of the highlights of the A38 program this year.