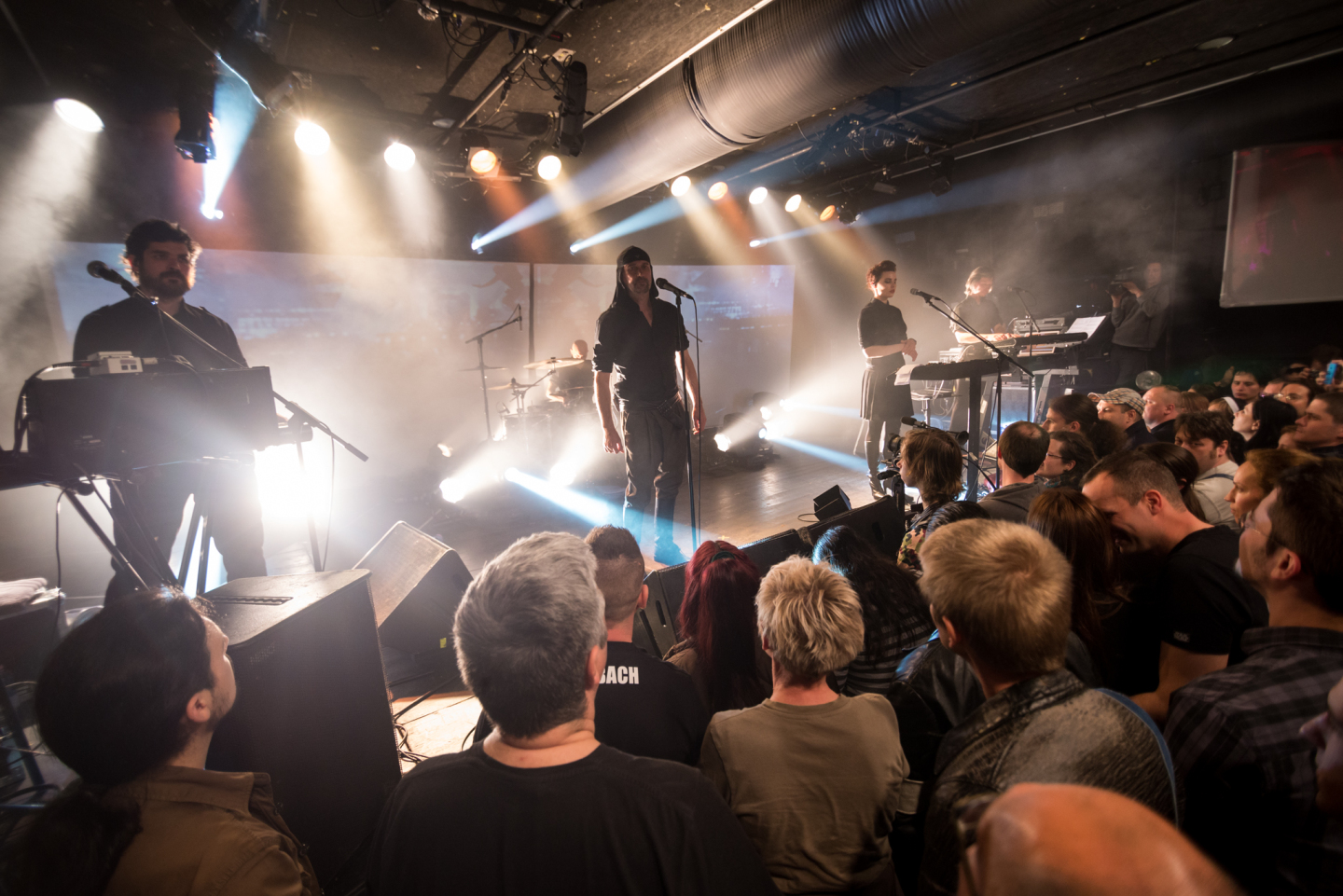 No matter how many times they have been here, we are always super-excited to welcome them again. They were formed in Ljubljana 37 years ago, they first played in Hungary in 1983, they have visited the A38 three times, they were the first European band to play in North Korea, and this year they released their latest album Also Sprach Zarathustra. Before their 4th concert on the Ship, we asked the guys in Laibach a few questions about the new songs, Stanley Kubrick, Rammstein, Iron Sky and both Koreas.
You've played in Hungary several times, also on the A38. Which visit has been the most memorable for you?
The first one, in February 2007, was certainly the most memorable because it was the first one. And you never forget the first one…
In the 80s, you played in the Stanley Kubrick movie Full Metal Jacket. What memories do you have of that experience?
Yes, this happened in the 80s when we lived for a while in London and our friends from the band Last Few Days invited us to join them as extras in Full Metal Jacket, directed by Stanley Kubrick. That was easy, because we were already serving the Yugoslav army by then and were used to wearing uniforms. The money was good, the food was regular and it was interesting to watch Kubrick at work. We also gave him our album which he accepted gratefully.
You played the cover versions of several famous hits. What feedback did you get from the covered artists?
We don't do cover versions, we occasionally do interpretations – which is a big difference. Anyway, we had many feedbacks from original artists, including Paul McCartney, who was apparently playing some of our versions of his Let it Be songs as the opening music at his shows, and he later visited Slovenia, because his second wife was a good friend of one of our collaborators. We also met people from the bands Opus and Europe, and they seemed to be quite big fans of Laibach.
What do you think of Rammstein and other acts that have been massively influenced by Laibach?
We envy them; Rammstein are the perfect Laibach for adolescents and other immature audience and we are very happy for their commercial success, but we wouldn't know how to step in their boots.
You created the soundtrack to Iron Sky. What do you think of the movie?
It's a great comedy with not such a great ending. The film has many layers although it may look simple on the surface. It strongly relates to Chaplin's Great Dictator, an extremely important film that basically deals with persiflage and uses the method of overidentification. Even the structure and narration in both films are very similar, and that's already something worth to respect. And there is of course Laibach music in it!
In 2015, you played two concerts in North Korea. Now when you look back on it, what memories and thoughts do you have regarding these two shows?
North Korea can easily fulfill your expectations but it can also give you much more; it's a completely different world from anything you can imagine from a European perspective, reality in North Korea is basically surreal. Although we had some 'insider's' information from people who'd already visited the country, we still had all the usual preconceptions that people in the West normally have about it. When we arrived there, what surprised us most was that it was just like we expected, but it was also completely different. North Korea is much more than what the media in the West is describing and generally we found most of the tabloid stories and stereotypes about the DPRK utterly false. The country is still quite poor and isolated and has an oppressive political system, but positive changes and energy is visible everywhere. People are generally very kind and they seem to possess the precious wisdom that we Europeans don't.  We couldn't find any cynicism, sarcasm, irony, vulgarity and other 'western cultural characteristics' there, only sincere modesty, kindness, proudness and respect. They love to laugh, smile and joke as well, much more than people back in Europe do nowadays. North Koreans are also very well-dressed, simple but elegant, and they learn foreign languages; children begin to learn English at the age of 7 and we met many who spoke other world languages as well. Pyongyang that was completely bombed and erased during the Korean War (mostly by the Americans) is today a clean, well-kept and colorful city with impressive socialist and post-modernist architecture, sculptures and parks. It definitely is a 'pop art' city and it looks as if Jeff Koons could have designed it. We have therefore been sincerely impressed by North Korea.
After these, you played in South Korea this spring. How were you welcomed there?
Very welcomed! Koreans are – an ideologically divided country, with all their differences and similarities and with their difficult history – an ideal audience for Laibach and it was symbolically very important that we were able to perform in both Koreas; when we first did a show in North Korea, there was a lot of criticism against us from the South. When we later performed almost the same material in South Korea, we were advised by North Koreans not to do it and also not to show the Liberation Day film at the South Korean film festival. In spite of all the pressure everything went well, South Koreans loved both – the film and the concert – and Morten Traavik, the Liberation Day film director, recently visited North Korea again, where he organized new demanding cultural activities. They let him in and out freely.
This summer you released your latest Also Sprach Zarathustra. How was it influenced by Nietzsche, and was it inspired by Strauss at all?
No, it wasn't inspired by Strauss, there is nothing that we could or should add to his fantastic interpretation of Zarathustra. Our album happened because we were firstly invited by Slovenian theatre director Matjaž Berger to create music for the play based on this famous work by Nietzsche, performed by the Anton Podbevšek Theatre ensemble. AP Theatre is located in Novo Mesto, Slovenia, and it is actually named after the Slovenian avant-garde poet from the 20s, whose poems are characterized by the so-called titanic lyric subject, with the features of Nietzschean over-man and Whitman's pantheism. His only collection of poems is called 'Man with Bombs' and beside Nietzsche's novel he was in fact also an important inspiration for the music that we wrote.  For the album release we later recomposed and modified mainly fragmented musical themes into 12 tracks.  We never really studied Nietzsche systematically or were obsessed by him but Matjaž Berger, who invited us into this collaboration, believes that Laibach already has 'incorporated' him within its Laibachian plasma. We certainly always loved his moustaches, but also his idea of the Eternal Recurrence.
Obviously, Ljubljana was a very different city when you formed the band in 1980. How do you like it nowadays?
We actually started in Trbovlje, where we lived during the first part of our lives. Later we moved to Ljubljana, which has always been a nice and elegant city, except that it is now recognised as such also by many tourists from around the world.
Your next tour starts on November 4, in Budapest. How will this gig be different from the previous Hungarian concerts?
It'll be totally different, as we are going to present a completely new program, based on Also sprach Zarathustra. Only in the second part of the show we will also perform some older songs from our repertoire.