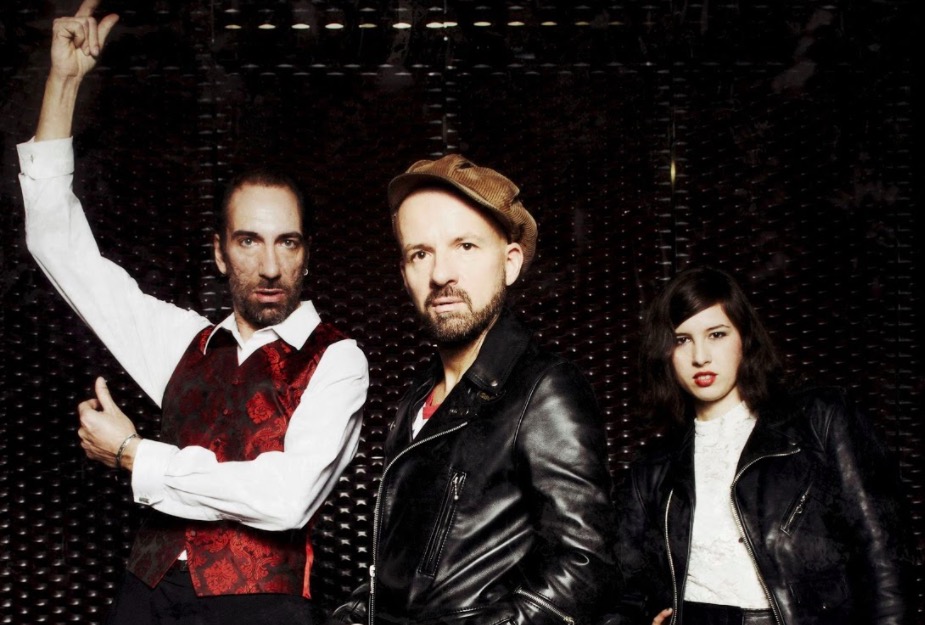 Stefan Hantel, a.k.a. Shantel is one of the most unique artist on the German scene – he and his band plays Balkan-flavored electronic scene. They have played in Hungary several times, but it is always a pleasure for us to welcome them back. Prior to their next concert on the A38, we asked Stefan about the early days, his favorite Balkan artists, Bukovina and even his plans to run for the mayor of Frankfurt next year.
In the beginning, you used to play plain techno. How do you view your early work nowadays and do you still listen to this kind of music?
I was never spinning straight "4 to the floor – techno". I am an electronic music afficionado from the first day on. Electronic music has become a very useful and democratic way to produce independent music. It's a part of pop culture. I still remember the days when studios where unbelievably expensive, so I started with a reasonable and basic equipment and it was all digital and electronic. Even until today I listen to all kinds of music, really… I am a music lover and luckily never got stuck into a specific genre.
Would you play techno or that's something that doesn't interest you anymore as an artist?
Of course i do play electronic music. I mean I'm not so hysteric about the same boring 4-to-the-floor stuff but there are a lot of variations. I think that's the great idea all about to bring diversity in sound and culture. It can be electronic or acoustic as long as it touches my soul.
Do you remember the moment when you decided that you want to play Balkan music from then on, or did it happen through a longer phase?
Actually, I don't really represent Balkan music. I had a Greek grandfather and a Romanian-Jewish grandmother. That was a huge influence in my childhood and I still love all kinds of traditional music. Even if it is more Caribbean, African or South-Eastern-European. First of all I do see myself as an European musician and artist. That's my soul, that's my identity. A complete mash-up of sounds, culture and styles.
Are there similar artists to you on the German scene or do you count as totally unique there?
I am a typical diaspora artist, I mean people see me as something exotic in Germany and also outside of Germany where I do play most of my shows. Most of the people in Germany don't think that I'm a German artist. I am just an "alien-Elvis and I bring love and joy".
What favorite Balkan artists do you have? Do you know any Hungarian bands that play Balkan music?
I like the little local bands in the countryside of Northern Greece, the area of Ioannina. There use to be always an interesting mix of a local muslim minority with christian people, there you will find a super special and pure sound. I really love that! For me, the Balkan means diversity, no borders, no limits in culture. It's the soul of our European identity, the most interesting part of our cultural history.
How different is it for you to perform at the Montreaux Jazz Festival than at an electronic event?
The last time in Montreaux, Quincy Jones, Prince, and Janelle Monae were watching my show and congratulated me backstage afterwards. That was an amazing and touching experience. Meeting with the monuments of pop music. At the electronic festivals, there are so many different DJs and performers every year but they all sound the same. It's getting a bit boring.
You used to make soundtracks. Do you have any plans like that for the future?
At the moment I'm preparing a soundtrack for an American TV series, I think cinema is in a bit of a crisis right now. Big companiess like Netflix or others use written music mostly. That means licenced from old catalogues. Luckily I can look back on producing music in the past 30 years, so I'm using a lot of songs from my back catalogue.
How often do you visit Bukovina. Do you sometimes perform there?
I've been there many times, it's always touching – nowadays local people are dealing more with local corruption and a new upgrowing nationalism, which is becoming a serious problem. I've also performed there a few times and people really loved it very much.
You're celebrating the 30th birthday of Bucovina Club. What does this mean to you?
To be honest, I really don't care that much. Record companies and promoters always need a funky story to come up with. I mean making a living from music in the past 30 years seems like crazy to me. All in all I've had a super time and I hope we will be rocking for the next 30 years as well. I'm really looking forward to this!
Watch Shantel and his band's full show at A38 from last year:
In 2016 A38 World recorded the live concert footage of this song called Mahala Geasca performed by Shantel and Bucovina Club Orchestra.
You're planning to run for mayor of Frankfurt next year. Why did you make this decision and what will be the most important parts of your program?
Think global and act local! I'm just trying to take responsibilities for my local surroundings. I think big cities are becoming more and more expensive and young people, families and the older generations aren't able to pay these prices anymore. We need to work out a new deal between all reasonable groups in our society. I mean I want to benefit the business and economy but in a more healthy way. Privatisation and uncontrollable gentrification is pulling our big cities down to a kind of monster. We need to stop this.
This will not be the first time you're playing on the A38. What memories do you have of the venue and the city?
I really do love Budapest. It's such a multicultural, open-minded and tolerant city. For me the A38 is a symbol of a peaceful and international revolutionary hedonism. It's a get-together for all kinds of people. Luckily I've made so many good friends and fans in downtown Budapest, even some fans from Romania, Serbia and Austria are coming to see my shows on the A38. I really love it!