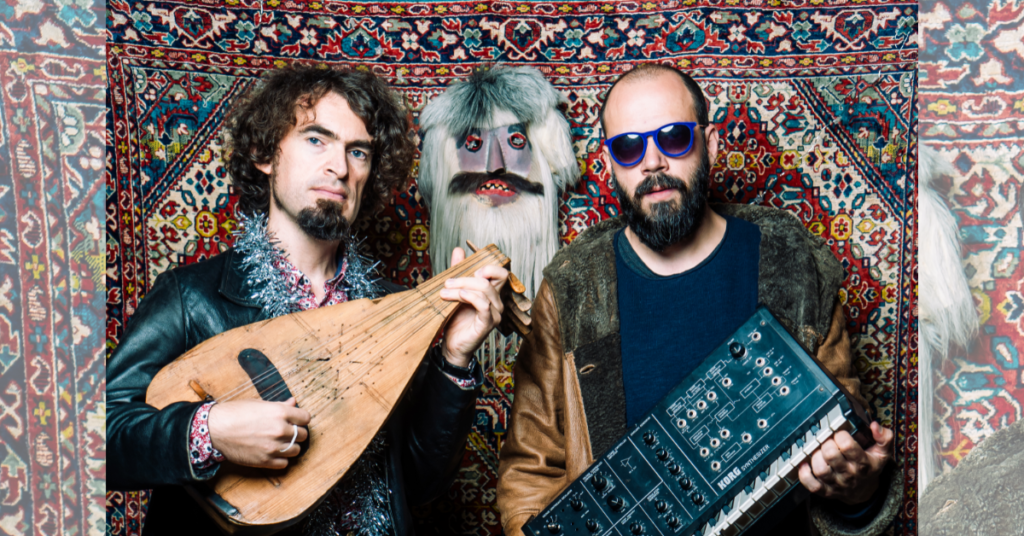 Our newest edition of Ahoy! presents you Balkan Taksim who already played on A38 Ship in 2020. They do not think in terms of styles, really, but rather in terms of moods. Their energy brings brightness warmth and all the colours into the coldest months of the year.

If we read your self-definition: Balkan Taksim is a psychedelic fusion of trip-hop electronics and Eastern European folk traditions. So we can assume that you steer clear of Balkan cliches. What's linking you to the Balkan? Can you tell us about your roots, heritage and traditions or influences that you encapsulate in your music?
We can trace our link to the Balkans in several ways: there are Serbian ancestors who settled in both Serbian and Romanian Banat, coming from the South and there is also a possible Aromanian side, currently under investigation; apart from that, the Balkans put a spell on our imagination with the help of the music that is played and sang there, with their colourful and tasty cuisine, with the stories and events that left their marks on the region.
Traditional instruments meet contemporary ideas, technologies and psychedelic elements complement the tunes. How do you experiment with your sounds and rhythms, what kind of styles do you explore and use?
Sometimes we have a melody and the rhythms that come along with it are taylored accordingly. There are lots of samples of acoustic instruments in our music – we use them clean or processed, depending of what the song calls for. We do not think in terms of styles, really, but rather in terms of moods. For sure, there are genres of music that have influenced us and we like to think that all these influences have already been distilled by our own creative apparatus.
Disko Telegraf is your first born – as you stated on your socials. Tell us about the creation of your debut album!
Well, it is rather a complex issue: in short, we have created the album in two stages and the concept finally became clear at the end of the first stage. When we realized that it will be a double LP we started to imagine how the graphic art will be like, so we came to the conclusion that is has to be based on old postcards from the Balkans. A very important thing was the audio mastering and for this we spent some time communicating with Alex Gopher, who did a wonderful job.
In 2021 you released official videos for your songs. They are all pretty different: what was the concept behind them?
They are created for different songs and each song called for a certain visual solution. There are cinematic, montage and animation videos, all of them with their own concept.
Do you have any special memory of your 2020 concert on A38 Ship right before Altin Gün?
Yes, we loved that show! A special memory: when we tried to communicate using the few Hungarian words we knew, the public responded in a very warm manner.
And the must have question at the end: what are your plans for 2022?
For 2022 we plan to record new material and play music festivals as much as we can.