Third time's the charm! Hailing from Sydney, Australia, punk blues heroes Crime & The City Solution have restarted their career three times. They formed in 1977 and broke up in 1982, they reformed in 1985 and called it a day in 1991, and they resurrected the band again in 2012. This year they are back yet again, and we are more than glad to welcome them on the A38. We also asked frontman/founding member Simon Bonney a few questions.
Apart from you and Bonwyn, the current lineup includes Chris Hughes, Georgio Valentino, Baron Anastis and Donald Baldie. How did they get involved?
The line-up came together organically, through the digital communication devices and old, analogue networks of friendships and associations.
In the early 2010s you reformed the band and made the American Twilight album. That lineup included David Eugene Edwards. What did he add to the Crime & The City Solution sound?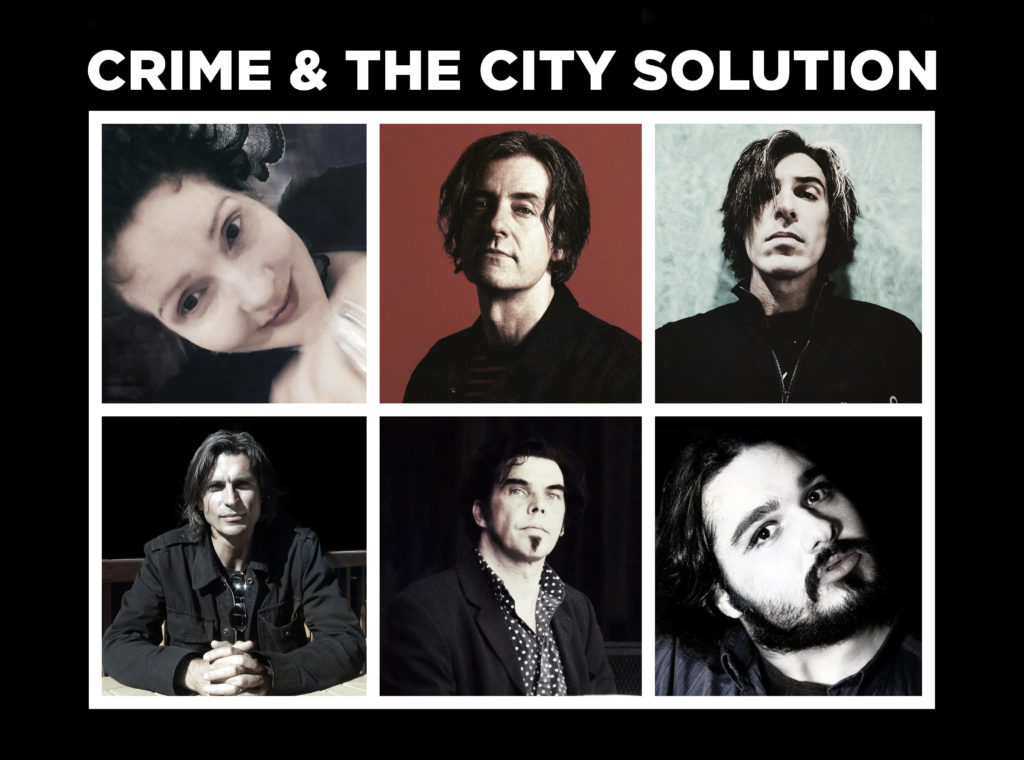 David brought his unique vision to play in that line-up, it became an element within the sea that was that incarnation.
Why did you record that album in Detroit? Did the city influence the songs in any way?
Bronwyn and I have a long association with Detroit. Tempermill is a studio that I like (and have used before), and Troy and Matthew live there, so it was an obvious choice.
There are lyrical themes that I regularly revisit, irrespective of location, but the place I write in always affects the way I populate and furnish the songs.
How did this current reunion get initiated, what prompted it?
Just seemed the right time and the right thing for me to do. The world is in a dynamic phase at the moment and our music suits periods of flux.
Berlin has always played an important part in the history of the band. In your opinion, how has the city changed over the decades? What does Berlin mean to you nowadays?
Unless forced to by need I keep to the old West Berlin and things have changed but things are also the same. Two things I've always loved about Berlin remain – it is not bourgeois  and the underground is so varied and industrious – there are artists, club owners, logisticians, dentists and doctors – a self-reliant world that walks beside, but also works with the above ground.
My experience of post unification Berlin is very limited so my Berlin is coloured by the past. Being in Berlin now will no doubt update my perception of the city, but that's in the future.
You're about to reissue your complete discography on vinyl and cd. How did it feel to revisit your legacy? Looking back, what do you consider the highlights in the band's career?
I have a problem with legacy, I'll never know what my legacy was because I'll be dead. I've always imagined by curiosity will one day get me atomised. I like to focus on the living, the now – I learnt that from Buddhists and Papua New Guineans. Life is change and for tomorrow we may die.
Your song Six Bells Chime was featured in the classic Wim Wenders film Wings Of Desire. Would you consider that a career highlight? 35 years later, what do you think of the movie?
Working with Wim, watching him unpack a film and in particular watching Bronwyn work on the triptych in our scene brought to a fore how I imagine music – as films in sound. So, in a very real sense, Wim showed me how to be a musician. It was a pivotal event in my musical journey and also a fitting finale to that line-up.
According to Wikipedia you manage aid programs for non-profit organizations and live in Thailand. Is that correct? How did you end up doing that and living there?
Some of that's correct, some not, I've never worked for an NGO and I have never been an aid worker in the commonly understood sense of that term. Broadly speaking I provided technical support to developing countries in the area of anti-corruption and oversight.
The world has been waiting for a new Crime & The City Solution album for 9 years. Are you perhaps working on new material? If yes, can you give us an update?
I have new songs that we are currently working up. We plan to record a new record in Berlin in July.