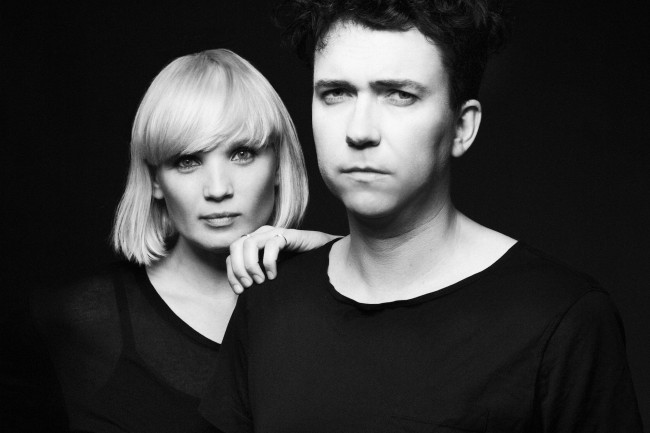 The duo of Sharin Foo and Sune Rose Wagner aka The Raveonettes already played at the A38 Ship two years ago – and all the people who were there swear that show was one hell of a rock 'n' roll ride. Since then, the band has released their newest album, Pe'ahi last year – and their newest tour reaches the A38 Ship again, on January 24. Cose two-part vocal harmonies inspired by The Everly Brothers coupled with hard-edged electric guitar overlaid with liberal doses of noise, very similar to The Jesus and Mary Chain, 50s rock and roll, a bit of The Cure, a bit of Velvet Underground. Before the concert, we've sat down for a chat with one half of the duo, Sune Rose Wagner (right side of the picture).
You've said in an interview that you wanted to immerse yourself in the surf history of Southern California and incorporate various elements from this specific culture into each song both lyrically and musically. What inspired this choice?
I've always been interested in surfing and surfing history and since I now live in Los Angeles, I felt ai had to be in it, so to speak. It's been incredibly inspiring I must say.
Pe'ahi starts out the same way as The Doors debut album (The Doors) – was it intentional or things just happened this way?
Very intentional. I think the Doors first album is an essential Los Angeles, West Coast album and I love it dearly, so I wanted to pay a little homage to them.
Your father died during Christmas Eve last year, was this album a way for you to recover from the loss?
Unfortunately not, but it inspired me to write a quite different album than the one I had started.
Why there aren't any slower songs or ballads on the album?
That was very intentional too, I wanted it to be raw and rolling just like the crazy waves out there on good days.
Did your method of writing songs changed now that you and Sharin live in the same city?
No.
The album came as a surprise – you didn't announce or promote it, we could first hear about it on it's release day. What were the reasons behind the decision?
We didn't really wanna talk about the album till it was released, we wanted to be as excited as people were when we announced it.
You've said that there is so many songs left over from Pe'ahi, that you've got another album called #2 ready to go. What are your plans with it?
No plans as of yet.
Your old band, Psyched Up Janis reformed for some concerts – do you have plans of making new music together or doing a bigger tour?
Absolutely not.
Chain Gang Of Love turned ten years old two years ago – what are the first things that come into your mind looking back at that album and your career?
I love it. Mixing with Alan Moulder in London and having such a fantastic, magical time.