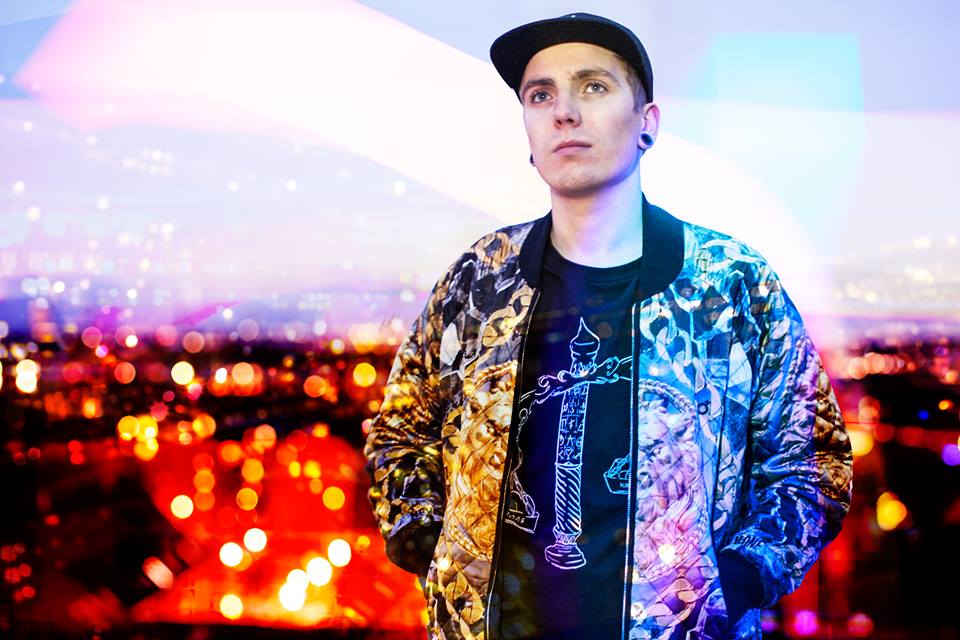 Snavs (meaning grit or dirt in Danish) is a half-hysterical hybrid of bass and instrumental hip hop with plenty of cheap, canned beats, remixes of remixes, skizo-rhythms and distorted synths. The promising Dutch DJ, producer and beat welder took his time and answered our questions before aimed at the A38 Ship with his bass cannon.
How was 2015 for you? Did you achieve everything you aimed for – personally and artistically?
No doubt that 2015 has been a big year for me. For me the biggest things was the Yellow Claw collab announcement in their mixtape, the Monstercat release and that I started my own label, Riotville Records. I've had been thinking about starting a label for a long time, so to start my own label was definietly something I aimed for in 2015.
Where does the name Snavs come from?
Snavs is actually just a name I came up with when I uploaded my first track on Soundcloud. Snavs in Danish means "Dirt" or "Filth", so it was a pretty good name for my music style.
What drew you towards trap music? Why do you think it's the most popular electronic genre nowdays?
I was listening to dubstep before I started producing, and when I started producing I made dubstep. When I discovered trap, I was in love with the grenre and I still am. I just like the vibe, the energy and the sounds in trap. I think it's the most popular electronic genre nowadays because trap can be so many things in so many different BPMs, and also because of the hip-hop vibes.
How does the Danish electronic music scene looks nowdays? Are there any fresh and exciting acts we should keep an eye on?
The Danish electronic music scene is more about dance chart Top 10 to be honest, but we have some pretty dope producers in Denmark. To name a few we have Fabian Mazur, Michael Parsberg (one half of Pegboard Nerds, The Frederik and many more.
Do you think that the active use of social media helped your career?
Absolutely, the social media is a very good way to make people listen to your music, and then it's up to the people if they like it or not. I wouldn't have been where I am today without the social media.
Could you tell a bit more about your collaborations with Fabian Mazur and Yellow Claw?
Fabian Mazur is a really good friend and also a really good producer, and we have the same taste in music and both like to experiment and make hybrids between genres, so we are working on a lot more collabs. I think we have five collabs ready now.
I'm really hyped about the Yellow Claw collab, they tweeted to me on Twitter one day and asked for my e-mail, and then they asked if I wanted to collab and of couse I said yes! Then they've send me a projekt and I finished it. The collab will come out in early 2016.
How did the idea came to start your own label, Riotville Records. What are your future plans with it?
I've had been thinking about starting a label for a long time, this way I can show my followers how many good producers we have out there. My future plans with the label is to keep going no matter what, and also to release everything. On Riotville Records, I don't care about genres, I just release good music.
You also released tracks on one of the scene's most important label, Monstercat Records. What did it feel like working with them?
I've wanted to release a single on Monstercat for a long time, and when I finished my song Time, I was one hundred percent sure that this would be perfect for Monstercat. I've released so many free downloads on my Soundcloud, so I thought it was time to release something on a huge label. I will release more on Monstercat in the future, both remixes and singles, but I will also release on my own and other labels.
What were the most standout tracks, albums or (re)mixes for you in 2015?
There are so many, but to name a few: Yellow Claw – Nightmare (feat. Pusha T); Slumberjack – Enigma; Fabian Mazur – Everybody Jack; Boombox Cartel – B2U; Stephen – Crossfire.