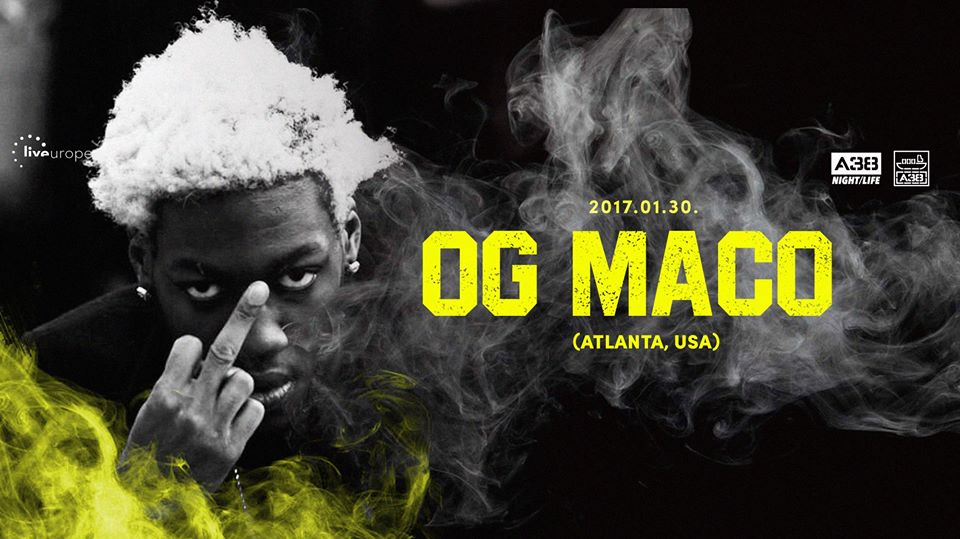 Bringing the slurry, slanted sound of Mystikal into the age of cloud-rap, Atlanta rapper OG Maco burst on the scene in 2014 with the single U Guessed It – which teleported him to XXL Magazine's 2015 Freshman Class list. Since then, Atlanta's latest icon has collaborated with Skrillex, 2 Chainz, Migos and Diplo, and released more than a dozen projects of varying lengths, not to mention that he signed to Quality Control Music. Before we get lit in January, we rolled one and dived into his career.
Born in 1992, Maco Mattox (aka OG Maco) was – from a very early age – influenced by the futuristic hip hop scene of his hometown, Atlanta… and Black Sabbath. Yes, you've read it right. When he is asked about his main influences, he cites Kid Cudi, Curren$y, AC/DC and Ozzy's legendary doom metal act; no surprise that before rapping, he used to sing and play the guitar in a hardcore rock band called Dr. Doctor. But the band wasn't even moderately successful, and soon he turned his head towards his true love: rapping. Since releasing his first proper mixtape, Live Life 2 in February 2014, the MC has been on a tear, pumping out releases featuring frequent collaborators – and fellow rising ATLiens – like Migos, Rome Fortune, Key! and more. And than U Guessed It – a minimalist fury that turned every head and trendsetter site from Pigeons & Planes to FACT Magazine – hit the internet and earned him a status he had never dreamed of.
While U Guessed It owed much to the Atlanta trap sound bursting from the city, it didn't quite fit that mold; similarly, as a new wave of more melodic MCs began trickling from Atlanta – led by iLoveMakonnen, Father, Rome Fortune and Raury, among others – his sound remained an outlier among that group too. Instead, Maco made a habit of combining punishing, powerfully delivered vocals over a wide palette of production that flitted between the piano-based grooves of Just Blaze and the darker tones of frequent Gucci Mane producer Zaytoven, all the while hitting city after city for packed shows. In the beginning of 2016, he went for his first headlining tour in Europe and continued to pump out mixtapes in a feverish tempo (not less than eight of them in a year!).
"We want to create the next level of music", Maco said to Billboard when he was asked about the shifts in terms of music between to mixtapes. "We don't want to take the easy way out, but we also want people to be ready for the album, and you gotta kind of ease people into that, because a lot of people want me to be one way and the actual artistry is way bigger than that", he continues. The album he is talking about is Children Of The Rage, his long-awaited studio longplayer that should be coming out at Capitol/Motown sometime next year. Two songs from the record – Bless Me and Lord Have Mercy – have already surfaced and judging from them, the main theme was the rapper's rise to fame with the help of divine intervention. Producers like Ryan Ryu Alexy or D.K.A.D. have contributed to it and according to the interviews, it will come out under his real name. Why? Let us quote OG himself: "Maco Mattox is the fuckin' future. And that's why the album is Maco Mattox, Children of the Rage. But OG Maco, people hold onto it right now. People put a certain connotation to OG Maco, and that comes with U Guessed It. But Maco Mattox doesn't really have to be attached to that as much. And that's really the purpose of it."
So it isn't an overstatement that one of the hottest names in the contemporary traprap/hiphop scene is coming to Budapest in January! And that's just the beginning as these events wil continue with A$AP Ant in February and Night Lovell in March. Get lit!