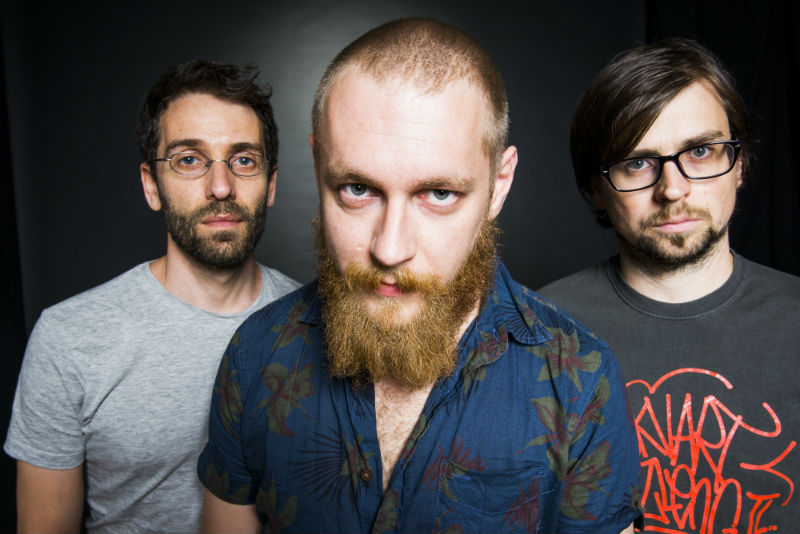 Local jazz/noise/experimental outfit Jü plays the music of rapture, blending elements of noise rock, psychedelia and even some folk as well. The trio's name is more and more well-known on the local scene, and it is not by chance that they were chosen as the support act for the A38 concert of Elliott Sharp. We sat down with drummer András Halmos for a chat.
Tell us about your newest album, Summa! How did you write the songs, now that you live in different places?
As soon we released our first album, we started writing new songs. We had to be effective as we didn't have many occasions when all the three of us would be in the same city. In most cases, we used the rehearsals before the concerts. I went to Berlin twice to rehearse. By the time we arrived in the studio, we had two songs in their final forms, one already recorded and the rest were themes and ideas only.
Usually one of us comes up with a theme and we play with it. Sometimes we perform them at concerts before they are ready as a song. They change anyway as we see the themes and structures as springboards to anywhere. Five years ago, before we gave our first concert, we'd improvised only. We talked about all kinds of music and they appeared in our music naturally. We didn't have plans, just enjoyed playing. When we were asked to give our first concert, suddenly we decided not to do full improv, so we wrote four or five songs in a week. These are on our first album that we recorded in 4 hours with Kjetil Moster who found his place in the music immediately.
I really like the way Jü works: we have many ideas, what and how to do. Constantly sharing music with each other, talking a lot about sounds and different approaches. Many times we have something in mind that we didn't hear elsewhere or some strange sounding Asian or African rural / traditional music triggers our imagination. Then we play really strange things in rehearsals. We try not to be bounded by having an opinion how the music should sound.
You are signed to RareNoise Records. How did it happen and were you sure from the beginning that Summa will be released by them?
When we had our first album ready, we started to look for labels. We were extremely lucky as we didn't approach many of them. Rarenoise was our main target as we thought our music would fit there really well. I had the chance to give a copy to Giacomo Bruzzo personally, who told me that chances are really low but he promised to give it a try. He's so much into music, he's really honest, serious and funny at the same time, it's a pleasure working with him. Also, his commitment is exceptional. We agreed to spend 5 days in the studio so we had time to try things out and shape the material.
Who did you work with on this record?
We had Kjetil Moster and Bolcsó Bálint on one song called "Partir" that we recorded at the Budapest Foundry Museum in 2015. That was a special project, we played three extremely slow new songs in this beautifully sounding environment. We've played them together live only once, it was at A38. Though these songs were not released in a physical format, we really wanted to feature a part of it on this album. Similarly to our first album, the recording (and mixing) of Partir was done again by László Válik.
Then we had Marc Urselli to mix it. A mutual friend, drummer Billy Martin introduced us in an email, when Marc was in Budapest doing the live sound for the Beach Boys. The only thing I knew about him was that he records and mixes most of John Zorn's albums from the mid-90's onwards. We talked about a possible collaboration, then only on my return home I checked him on the net to learn that he had 3 Grammys, worked with dozens of artists from ZZ Top to Eric Clapton. The mastering was done by Scott Hull, owner and mastering engineer of Masterdisc; they worked on Nirvana's Nevermind just to mention one album.
How would you say this album differs from your previous record?
Well, we named it Summa as we think it sums up what we do recently and we have moved away from the sound of our first album. It is more radical in a sense that the listener needs to be open to anything while listening to it and it doesn't work as background music. Without labeling it good or bad, this is not another album of any existing style or genre. This is what our playground sounds now, deliberately raw and diverse.
What do you find exciting in terms of music, nowadays?
It's really hard to conceive it, even for myself. I've spent my last 20 years listening to all kinds of music extensively as a musician and a concert organizer. I had many years when I heard about 250 concerts yearly and now less music surprises or touches me deeply. But still, anything can have this effect and it can be of any style or any level of proficiency.
Future plans?
Adam and Ernő are back in Hungary so we can play more and this is what we will do. Also aiming for the next album, experimenting with new things, so it's still fun.