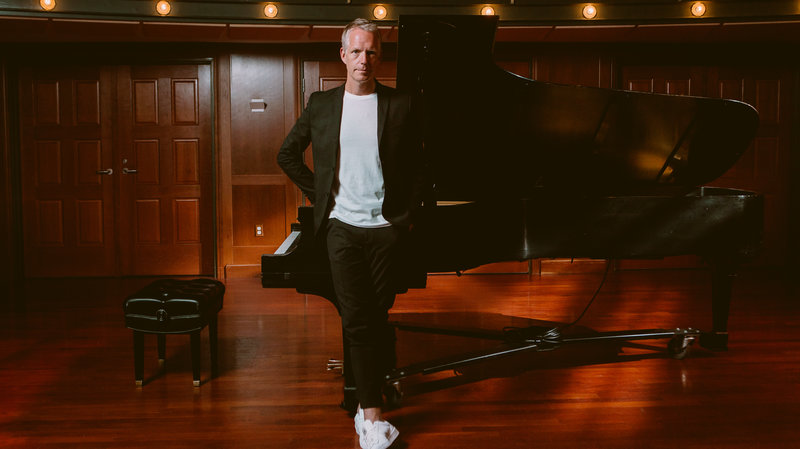 American pianist Chad Lawson is equally influenced by classical music, pop and jazz, he has done soundtrack work and he has been performing in bands and also as a solo artist. On October 11, he is playing his fist ever Hungarian concert on the A38, promoting his latest album Re:piano. Ahead of the show, we had a little chat with him.
Your mission is to revive the piano for the Spotify generation. How's your mission coming along so far?
Honestly, it's one I find difficult to define. I'm seeing an increase in requests for song tutorials such as my Nocturne In A Minor as well as an increase in sheet music sales. So, I think all in all, the more exposure pianists such as myself and similar artists receive, the more interest can be drawn to the instrument. Outlets such as Spotify's Peaceful Piano are great catalysts in growing audiences as that playlist alone has over 4.5 million listeners. I was incredibly surprised with the response from my latest release, re:piano. I had so many emails asking "please do a video tutorial", "how did you get these sounds?", "what software are you using?" I was taken aback with the interest and doing this live has been such an experience. Steinway had posted the behind-the-scenes video on their social media page and the comments left me smiling for days. I was prepared for some criticism (especially on their social media pages) and the response was completely opposite. The only negative comment I read was a gentleman saying "This is noise", and someone responded to his comment saying "and we love it!" I couldn't have been happier to read his words.
You use tablets in your music and you mix it with your piano playing. How did this all start for you?
We live in a digital world now. Everything is a touch-screen. It's such common place we don't even think about it anymore. My idea was to marry modern technology with tradition. Incorporating both on stage for younger and older audiences. If it was just a piano, perhaps the younger audience would lose interest as the piano is not as relevant to this generation. Yet if it were all electronics, the older audiences would feel left behind as the landscape of today's music has completely changed. So, running the piano through an iPad allows me to draw interest in both and explore new sounds and ideas while using an instrument that has been around for hundreds of years. This all came while making the album re:piano. I'm actually running the piano through a software on my laptop called Ableton Live but I am controlling the sounds, loops, effects via my iPad on stage with an app called TouchAble. It's a fascinating program and allows me to create at an instant which can open a whole world of inspiring ideas.
You've covered songs by The Beatles, Soundgarden or The Police. What do you listen to more in your freetime? Classical, jazz or pop/rock music?
Honestly, I think people would be surprised how much music I actually DON'T listen to. Hahaha. I'm a big reader and when I can't read I listen to audio books, particularly while running. It just allows me to step away from the instrument and let my subconscious work while I "tune out" if you will. I find in doing so I have fresh ideas once I return to the piano to write. If I'm constantly hearing music I'm always analyzing it, thinking about "they did this to get that effect", and so forth. When I do listen to music it's usually anything but classical/jazz. I'll honestly open Spotify/Apple Music and randomly listen to albums I'm not familiar with as well as different genres. I'm attending a festival as I write this (literally writing this from a hotel room) and saw a brilliant folk artist last night by the name of Tyler Childers. His band was amazing, his songs were so well written and I haven't stopped thinking about the show since I saw it last night. To me, that's the beauty in music. Taking an artist/genre/sound you're unfamiliar with and enjoying it for everything you weren't expecting to find.